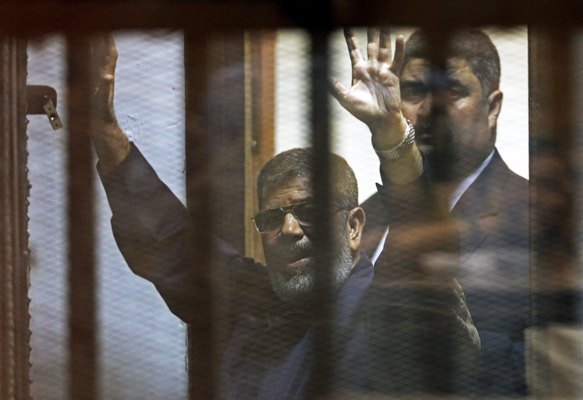 Deposed Egyptian President Mohamed Mursi greets his lawyers and people from behind bars after his verdict at a court on the outskirts of Cairo, Egypt June 16, 2015. REUTERS/Asmaa Waguih
CAIRO, Jun 17 (Aswat Masriya) - Egypt said on Wednesday that describing the trials of ousted president Mohamed Mursi as "political" is a "deliberate" attempt to mislead, stressing that he and others were convicted in "fair and impartial" trials.
The Egyptian Foreign Ministry said in a statement that Mursi and his co-defendants were convicted for criminal offenses, including "the murder of more than 50 policemen and inmates."
This comes one day after Mursi was sentenced to death in a prison escape trial and was sentenced to life in prison for an espionage case, by the same judge.
Both domestic and international reactions expressing concern have since poured in.
Human Rights Watch said the trials were "politically motivated" and "compromised by due process violations".
Other critical statements to the Tuesday court rulings were issued by the White House, the European Union, the United Nations' secretary general, the Turkish president and foreign ministry and Qatar, whose ties with Egypt have grown cold.
Egypt's Foreign Ministry said these are "desperate attempts to impose ... policies that go against the will of the Egyptian people". It added that the accusation that the trials have violated international judicial standards is unfair to Egypt's judiciary.
"It is inappropriate to comment" on the decisions and rulings of the Egyptian judiciary, because it carries an intervention, which is "rejected" in form and substance.
The ministry said the verdicts are not final and that there is room to appeal them twice.
Locally, the Muslim Brotherhood said the sentences were "farcical". The two trials have featured dozens of Brotherhood members, including the banned group's leading figures.
Brotherhood Supreme Guide Mohamed Badie, his deputy Rashad Bayoumi, and prominent Brotherhood figures Saad al-Katatny and Essam El-Erian were also handed death sentences for the prison escape case.
This is the third death sentence served to Badie.
Mursi, who became Egypt's president in June 2012 after the first democratic elections in the country, was eventually ousted at the hands of the military following mass protests against his rule, after a year in power.
Since his removal in July 2013, Mursi has faced multiple charges in five trials.
His ouster was also followed by the arrests of dozens of Brotherhood leading figures.
Egypt listed the Brotherhood as a terrorist organisation in December 2013 and insists it is behind the wave of militancy which has targeted security personnel since July 2013.
The Brotherhood continuously denies the accusations.