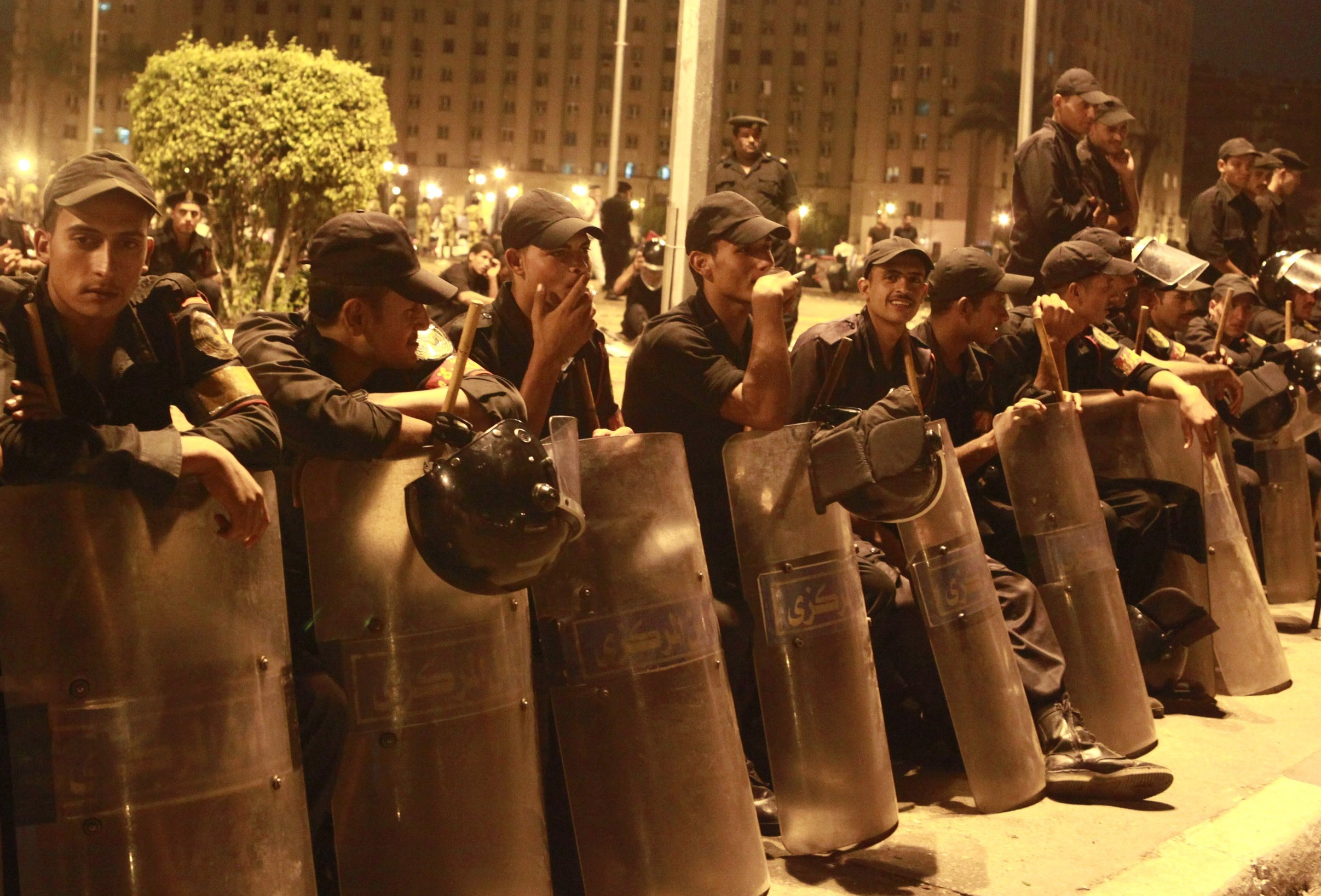 Security forces stand guard in central Tahrir square to prevent protesters from camping out in Cairo August 13, 2011. - REUTERS/Asmaa Waguih
Director of Cairo's Central Security, Ashraf Abdullah, said on Sunday that his forces do not possess any rubber-bullet guns, adding that protesters mistreat the officers.
Abdullah said in a statement reported by the state news agency that all rubber-bullets were withdrawn from the central security and that the forces only had teargas bombs and sound-bullets to disperse protesters when necessary.
He explained that the expelling of the interior minister from the funeral of the police officers last week was due to their anger for not being fully equipped to confront the protesters.
The security chief said that the officers were undergoing grave emotional pressures due to the death of four of their men within one week.
"Some accuse the central security forces of abusing the protesters when the truth is that the protesters are the ones mistreating us," Abdullah said in a statement.
"The protesters throw petrol bombs, missiles, rubber-bullets, fireworks and fire live ammunition, which can be proved through the injuries among our men," he said, explaining that 394 security members have been injured, some with fractures and burns and others with rubber-bullets.
Abdullah asked the protesters not to overlook the rights of the police officers, saying, "Do not forget that a police man is entitled to human rights, we are human beings and we have children, wives and sisters who need us, we are only doing our jobs in providing security... we sacrifice our lives for this country."
He asked the legislator to speed up the drafting of a law that regulates protests.
As for the clashes that occurred on Friday between the security forces and the protesters near the presidential palace, he said that the security forces were defending a symbol of the state in response to attempts of burning it down.
Regarding the assault on Hamada Saber and stripping him naked in front of the presidential palace, he described the incident as "unfortunate", adding that the public prosecution will be the sole judge of the incident.
He stressed that the central security forces "did not assault, strip naked or drag any of the protesters since the beginning of the events."