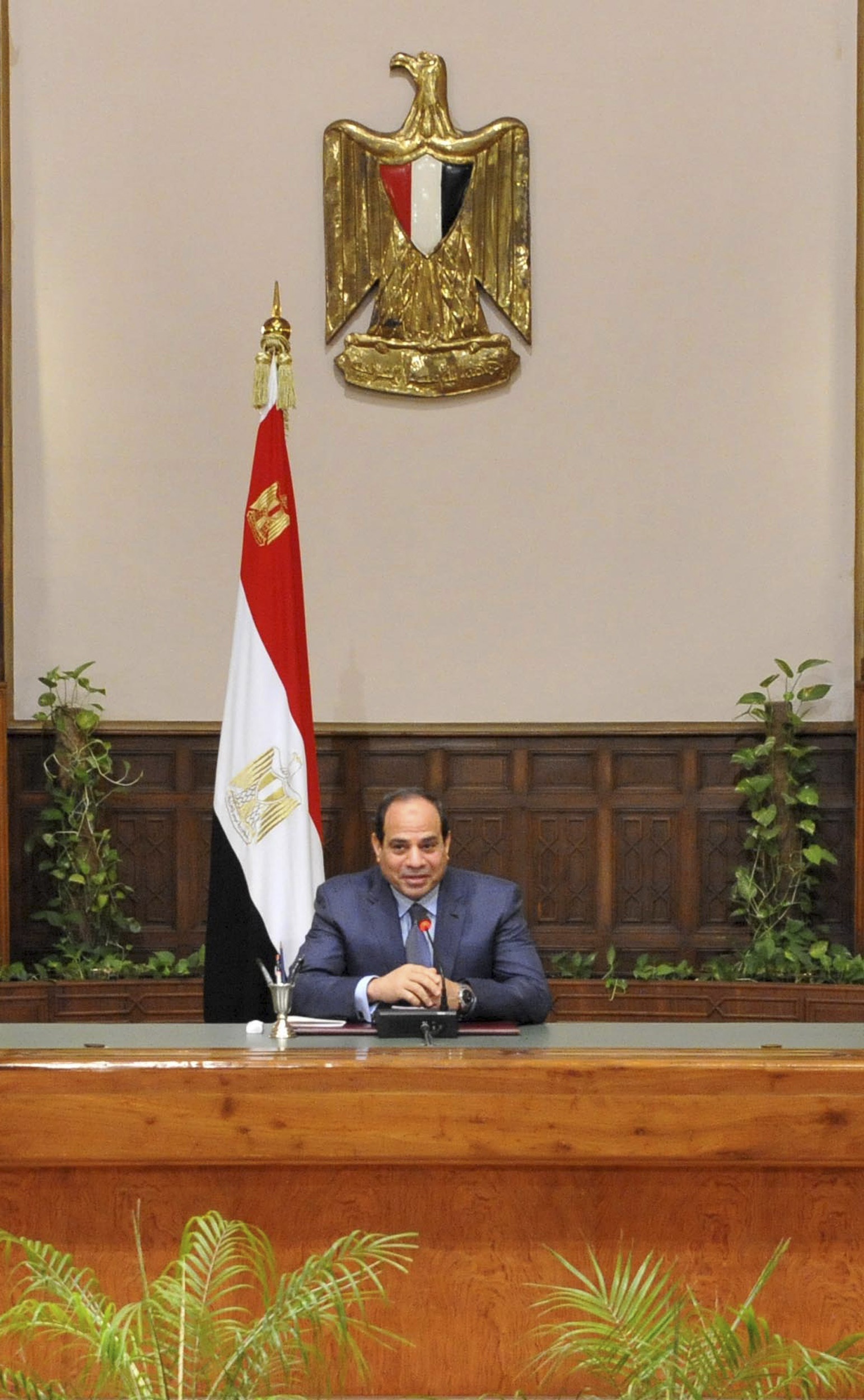 Egyptian President Abdel Fattah al-Sisi meets with members of the Supreme Press Council and the heads of the boards of directors overseeing the liberalisation of the Egyptian press at the Presidential Palace in Cairo August 24, 2014, in this handout photo provided by the Egyptian Presidency. REUTERS/The Egyptian Presidency/Handout via Reuters
CAIRO, Aug 24 (Aswat Masriya) – Egypt's President Abdel Fattah al-Sisi stressed to Algerian Foreign Minister Ramtane Lamamra on Sunday Egypt's keenness to strengthen bilateral ties between both countries.
Sisi met with Lamamra at the presidential palace on Sunday during the latter's visit to Cairo, state television cited Presidential Spokesman Ehab Badawi as saying.
Sisi described Egypt's relation to Algeria as "strategic", stressing the importance of "working together to achieve regional peace and security, preserve mutual interests and achieve the aspirations of the brotherly nations."
Badawi cited the president saying that Egypt prioritises its relationship with the North African countries within its foreign policy. Sisi added that the latest developments witnessed in the North African region multiply the importance of this relationship.
Sisi addressed the "dangerous" situation in Libya. He stressed the importance of supporting the newly elected Libyan Parliament to "overcome the tribalism left behind by the former Libyan regime."
Militant fighting in Libya has recently intensified in measures unprecedented since the overthrow of late Libyan President Muammar Gaddafi in 2011.
In a meeting with newspapers' chief editors earlier on Sunday, the president denied that Egypt has conducted any military operations in Libya. Forces in the Libyan City of Misrata had blamed Egypt and the United Arab Emirates for airstrikes which targeted the Libyan capital on Saturday.
Sisi and Lamamra also discussed other regional crises such as the situation in Gaza, Syria and Iraq, Badawi said.
Sisi said that the Arab nation is now "in crisis" and that stronger Arab states should take up their "historical responsibility" toward preserving Arab national security.
The Egyptian president's first foreign visit since his inauguration on June 8 was to Algeria. Sisi stopped at the Algerian capital on June 25, seeking Algeria's support to counter Islamist militancy in North Africa.