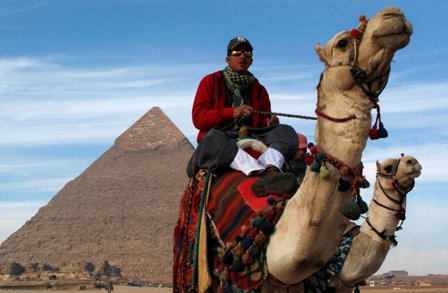 A man rides a camel as he waits for tourists in front of a part of the Giza pyramid, near Cairo January 12, 2013. REUTERS/Asmaa Waguih
A World Economic Forum report that includes 140 countries has revealed that Egypt is ranked 85th in terms of "Travel and Tourism" while occupying last place in terms of security.

The report shows that Egypt fell by 10 places from 2011 to 2013, suggesting that the fall may have been affected by the political instability that has swept the country since the 2011 uprising that toppled Hosni Mubarak.

Being among the 10 most countries with traffic accidents and impacts on business due to crime and violence, Egypt was ranked to have the worst security record.

Rankings included rules and regulations, tourism infrastructure, environmental sustainability, safety, health and cultural resources.

The World Economic Forum is an independent international organization based in Genève with annual meetings in Davos that are attended by official representatives from all countries.