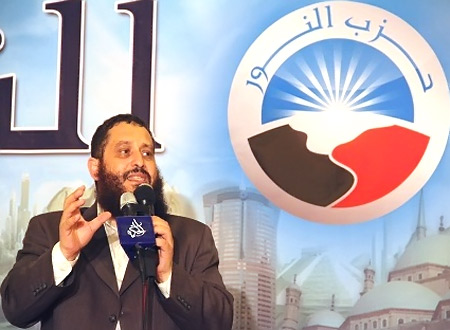 Emad Abdel Ghafour - Head of Al-Nour Party
The Salafi Watan Party has proposed a new initiative to solve the political and economic crisis in Egypt and called on political parties and forces to sign what it called a "code of honour and national responsibility" on 23 March.
The initiative comprises 13 points including a political truce, a council for economic development, election monitoring, a national coalition government, social justice, and economic identity, the party said on its Facebook page.
"The simple Egyptian citizen is not concerned with political differences ... as much as he is with improving his living conditions."
The party said it proposed the initiative out of a sense of national responsibility.
It urged political and national powers, heads of political parties, Shura Council members, former prime ministers, and economic institutions to attend a media conference to be held in al-Azhar Unniversity's grand conference hall on 23 March at 7 p.m.
The goal of the conference is to discuss the economic state of Egypt and its repercussions on the country's economic future and to sign the code of honour and national responsibility, the party's statement explained.
Watan Party is a newly founded party that branched out of the Salafi Nour Party. Former head of Nour Party Emad Abdel Ghafour is now head of the Watan Party.