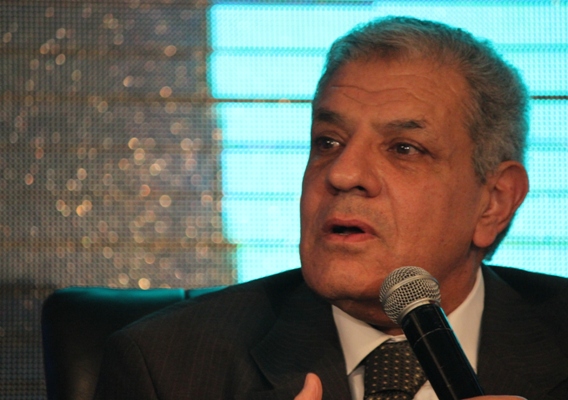 Housing Minister Ibrahim Mehleb on October 1, 2013 - Ahmed Hamed/Aswat Masriya
CAIRO, Feb 25 (Reuters) - Egypt's new prime minister said on Tuesday he would seek to eradicate militant violence that has increased since the overthrow of Islamist President Mohamed Mursi, hoping improved security will lead to economic recovery.
Speaking after his appointment by Adly Mansour, the army-appointed president who has been in office since Mursi's removal in July, Ibrahim Mahlab said he hoped to form his government within three or four days,
"We will work together to restore security and safety to Egypt and crush terrorism in all corners of the country," said Mahlab, formerly the housing minister, expressing hope for a recovery in the crucial tourism sector.
"Security and stability in the entire country and crushing terrorism will pave the way for investment."
Mahlab's appointment followed the surprise resignation of Prime Minister Hazem el-Beblawi's government on Monday.
Bombings and shootings by militant Islamist groups have become commonplace since the army deposed Mursi after mass protests against his rule.
While most of the attacks have targeted the security forces, two South Korean tourists were killed in a Feb. 16 bomb attack on a tourist bus in the Sinai Peninsula.
Mahlab is a civil engineer who was formerly head of one of Egypt's biggest construction firms. He was also an official in deposed President Hosni Mubarak's National Democratic Party.
He said his government would work to provide a secure climate for a presidential election that army chief Field Marshal Abdel Fattah al-Sisi - defence minister is the last cabinet - is widely expected to win, though he has yet to formally declare his candidacy.
The choice of defence minister in the new government may hold clues as to when Sisi will announce his decision to run: he must vacate the post in order to contest the vote that could be held as soon as April.
But Mahlab offered no clues as to the choice of defence minister, saying the decision was up to President Mansour.
"A PROMISING FUTURE"
During former prime minister Beblawi's tenure, the state cracked down hard on Mursi's Muslim Brotherhood and rights groups criticised other moves to curb dissent, including a law imposing tough penalties on people who protest illegally.
Beblawi's government received billions of dollars in aid from Gulf states hostile to the Muslim Brotherhood but was criticised for failing to take quick steps towards reforming an economy burdened by a massive state subsidy bill.
Besides serving as chairman and CEO of Arab Contractors Company, Mahlab, who is married and speaks English and French, has also worked in Saudi Arabia, according to a curriculum vitae distributed by the housing ministry.
"I think he will be a very practical prime minister, but of course it is a very difficult position given the economic problems and the very high expectations of the public," said Angus Blair, chairman of business and economic forecasting think-tank Signet, who heard Mahlab speak at a recent seminar.
"He was very frank about the problems Egypt faces and very clear that you have to bring the population with you on what needs to done in policies that would have to be undertaken to improve the economy," he said.
In an apparent reference to recent industrial action, Mahlab promised "dialogue" with workers.
But he also urged patience from a population desperate for economic improvement. "There are limited resources but there is a promising future awaiting Egypt," he said. (Writing by Tom Perry; Editing by Michael Georgy and Robin Pomeroy)