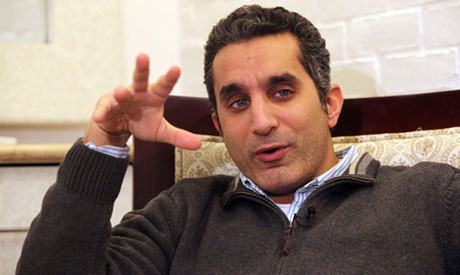 Egyptian political satirist and host of weekly Television show Bassem Youssef - Reuters
Egypt's prosecution issued on Saturday an arrest warrant against prominent television host Bassem Youssef on charges of contempt of religion and insulting the president.
Youssef hosts a weekly evening political satire show "al-Bernameg" (The Program) that has been a major success since it premiered in November on CBC channel, which also faces threats of suspension for presenting the show.
A prosecution general aide told Aswat Masriya that the prosecution has considered four reports filed against Youssef based on specified episodes of the show where the political satirist allegedly offends Islam and the president.
Several lawsuits had been filed against Youssef to ban his weekly show, accusing him of mocking President Mohamed Mursi, violating the social code of conduct and defaming religious scholars.
Plaintiffs said in their appeal that they were offended by the insulting of the president of the country who is considered a symbol for the nation's prestige.