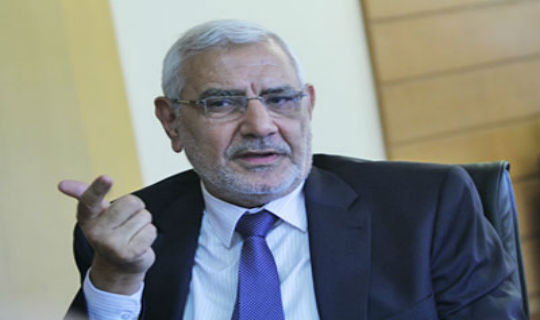 Potential presidential candidate Abdel Moneim Abul Fotouh - photo from al-Shorouk
"The systematic acts of violence comfirm that Mubarak's criminal regime that feeds on spreading chaos is still effective," Presidential candidate, Abdel Moneim Abou Al Fetouh said, in light of recent violent attacks.
Abou Al-Fetouh added that deadly clashes keep occuring due to the "incompetence and collaboration of the Supreme Council of armed forces."
At least seventy-four people were killed and hundreds were injured in deadly clashes yesterday during a soccer match between Al-Ahli and Al-Masry teams in the city of Port Said.
Expressing his grief, Abou Al-Fetouh said, "Our hearts bleed over the collective murdering of Egyptians. Those were not clashes between fans, like could happen anywhere in the world, this was a fully-planned crime."
Abou Al-Fetouh called for the parliament to take responsibility as the only elected power and immediately bring to justice those responsible for the deaths.