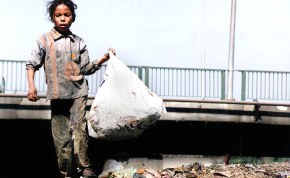 A girl rummaging through rubbish in Cairo - File Photo
Nagwa Khalil, Minister of Social Affairs and Insurance announced that the Ministry will allocate $69 million and 500 thousand pounds to develop drastic and effective solutions to eliminate the phenomenon of street children.

She emphasized that the Ministry pays wide attention to the problem of street children and that it comes at the top priorities of the ministerial plan, reported The Middle East News Agency.

"The Ministry has allocated 30 million and 900 thousand pounds of Domestic and Foreign aid through 13 Non-Governmental Organizations in Cairo, to look after street children and refugees. Considering that Cairo suffers the most from this phenomenon", she said.

She explained that this shall happen within the context of the support that the ministry offers Non-Governmental initiatives which have a great role in sustaining the governmental efforts in comprehensive development.

The Ministry appreciates the role of which the NGOs undertake in addressing the phenomenon of street children. The Ministry is keen to provide support in different forms for the development of social services and enhancing social awareness among citizens of the importance of volunteer work.

Khalil clarified that the ministry is preparing educational programs that aims at helping street children become good citizen. These programs shall attract street children into a healthier environment.

Khalil said that their aim will be achieved through providing a suitable environment to practice activities that shall help the children grow into balanced citizens who are psychologically, emotionally and academically well.