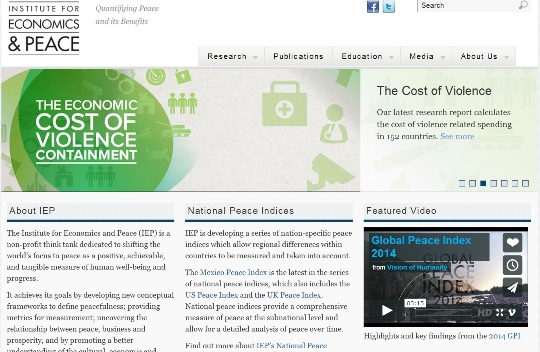 Screenshot of the Institute for Economics and Peace website
CAIRO, June 19 (Aswat Masriya) Egypt has been ranked as the 143rd of 162 countries in the Global Peace Index in the latest annual report by the Institute for Economics and Peace (IEP).
The 2014 Global Peace Index report analyses the state of peace around the world identifies countries at risk of becoming less peaceful.
Egypt suffered the second largest decline at the global level after South Sudan.
The country's ranking fell by 31 countries since the ouster of Islamist President Mohamed Mursi in July 2013.
"The main cause of this disruption was the military-led ousting of the former president and the resulting crackdown on his supporters from the Muslim Brotherhood."
The study ranked nations according to their level of peace. It is composed of 22 qualitative and quantitative indicators of the existence of absence violence or fear of violence.
"Over the past seven years, global peace was negatively affected by a number of international events including major outbreaks of violence in the Middle East."
The report said that the economic impact of containing and dealing with the consequences of violence in 2013 was significant, amounting to US$9.8 trillion per annum or 11.3 percent of global GDP.