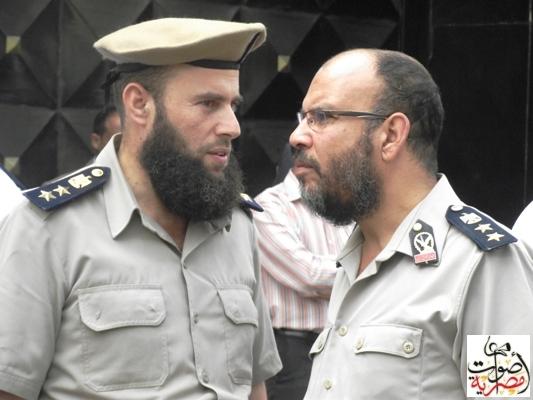 Bearded officers demand their return to work on October 31, 2012. Ahmed Hamed/Aswat Masriya
Bearded policemen have called for a mass march on Friday, 22 March in front of Abdeen Palace in downtown Cairo, under the slogan 'We will not give up.'
The call for the protest came through their official Facebook page 'I am a bearded policeman.'
Bearded policemen have been staging a sit-in since an Administrative Court ruling on 20 February that allowed policemen with beards who had been suspended from work to return to their duties. The interior ministry, however, refused to implement the verdict.
According to interior ministry codes of conduct, policemen are not allowed to grow their beards. Since last year, a number of officers have been contesting these rules, citing religious freedom.
"We will not give up because we believe that God will support us," read the statement.
"We will not give up our demand to resume work. This is to help our colleagues in returning security to the streets, to stand against the haters of the revolution, by implementing the law."
Last Friday, hundreds of Islamists protested at the police directorate in the Upper Egyptian city of Assiut to support bearded police officers banned from returning to work by the interior ministry.
On 1 March, dozens of protesters gathered at Abdeen Palace in Cairo in support of bearded policemen.
In January, a report was issued by the Administrative Court's state commissioners authority stating that beards do not conflict with the 1971 police law and that growing beards would not negatively affect the public.