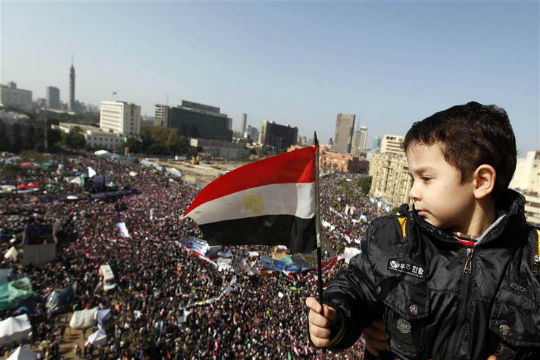 January 25 anniversary - Mohamed Abdel Ghany/Reuters
Head of the parliamentary bloc of the Muslim Brotherhood (MB)'s Freedom and Justice Party, Essam al-Erian, said on Monday that the MB joined the uprising on January 25, 2011, with its senior members rallying by the Supreme Court and its youths in Tahrir Square.

In a Facebook statement on Monday, days before the second anniversary of the popular uprising, Erian said that the Brotherhood had issued a list of demands on January 19 of 2011 in light of the Tunisian uprising, warning the Egyptian regime.

The Brotherhood did not announce their official participation in the revolution on January 25 but instead released a statement on January 19 listing demands and proposing means to avoid the popular uprising.

"The Muslim Brotherhood are proposing immediate demands to calm the tension in Egypt's streets, support stability in the country and protect Egypt from a nationwide uprising that may be a lot more harmful and influential than its Tunisian counterpart," the statement had said.

Meanwhile, a number of activists including Wael Ghoneim - an admin of the Facebook page "We Are All Khaled Saeed" that helped mobilize the masses during the 18 days - insist that the Islamist group did not take part in organizing the protests but announced that even though they would not officially participate, they do not object to their youths' participation.