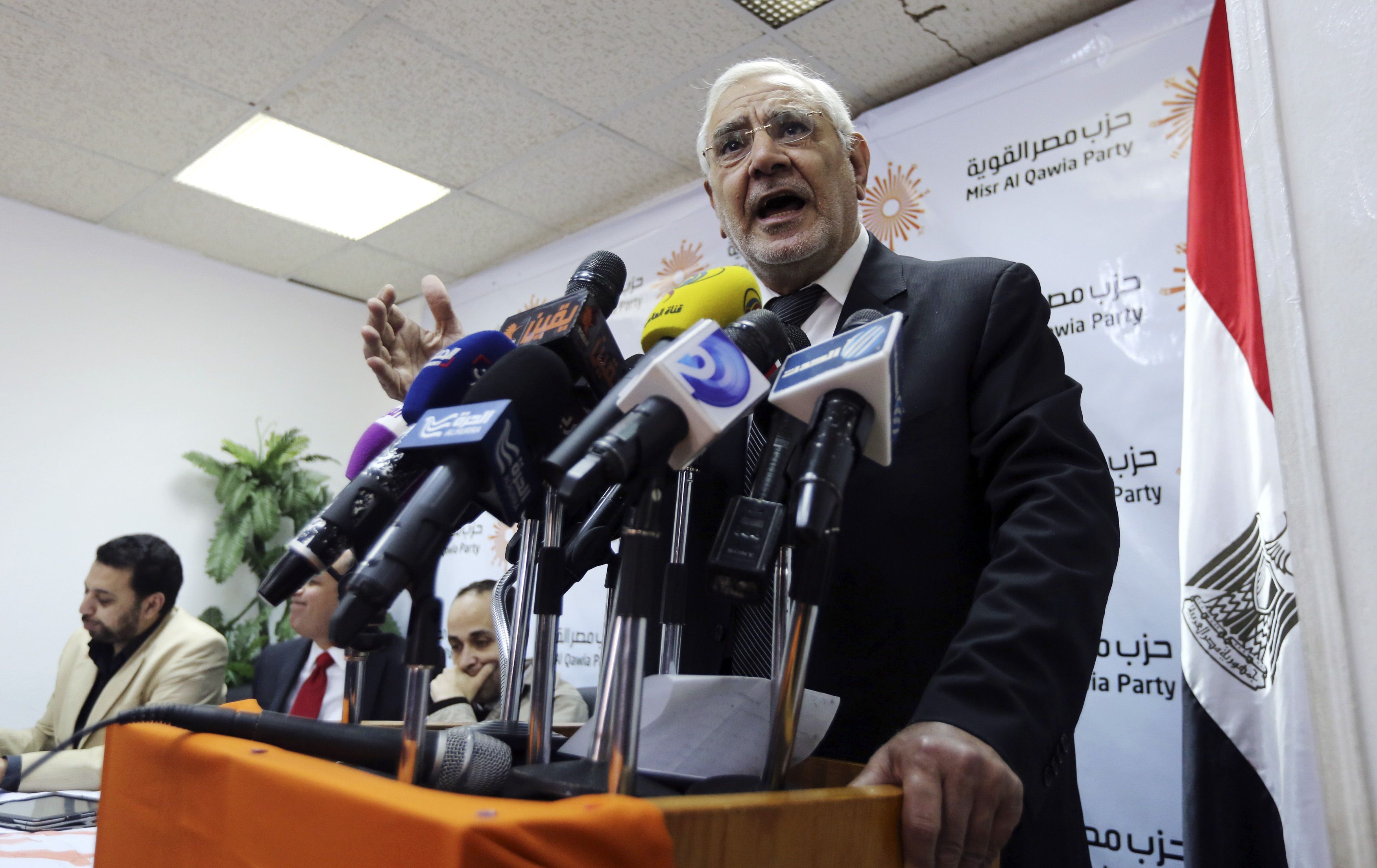 Chairman of the Masr El Kaweya (Strong Egypt) party, Abdel Moneim Aboul Fotouh, speaks during a news conference in Cairo February 4, 2015. The party announced on Wednesday that they will boycott the upcoming long-awaited parliamentary elections. REUTERS/Mohamed Abd El Ghany
CAIRO, Feb 4 (Aswat Masriya) – Strong Egypt party, headed by former presidential candidate Abdel Moneim Aboul Fotouh, announced in a press conference on Wednesday that it will not participate in the upcoming parliamentary elections "given the absence of a democratic environment."
The elections are due to be held over two phases, with the first running from March 22 and 23 and the second phase being held on April 26 and 27.
Strong Egypt party issued a statement, saying that all the "revolution's slogans are in setback," adding that this comes in "parallel with unprecedented terrorist operations."
The party added that instead of confronting "terrorism," the executive authority, specifically naming the presidency, are widening the "societal split" and the rift between political groups and between classes of society.
The party has regularly expressed opposition to the current Egyptian regime's policies and boycotted the presidential elections held in May 2014, which brought Sisi to power.
It said it will reach to the Egyptian people to raise their awareness on political, social and economic rights, offering "political alternatives."
The party said it will continue to cooperate with political opposition groups that believe in peaceful political action to "found a real democratic path."
Once completed, the parliamentary elections are considered the last step in the political roadmap that was announced by the military after the ouster of Islamist President Mohamed Mursi in July 2013 following mass protests against his rule.
The legislature will be made up of 567 seats and will be the first elected under Sisi.