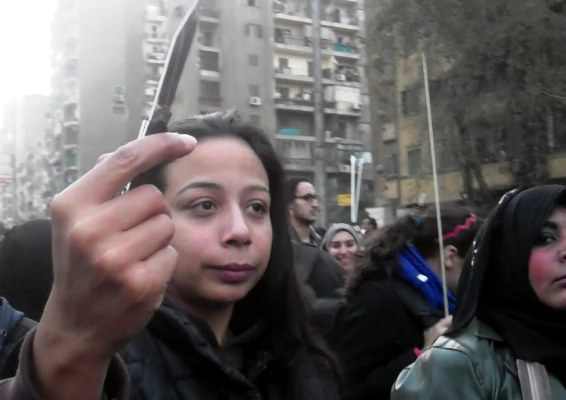 A protester marches carrying a bladed weapon in a march against sexual harassment on February 6, 2013 - Aswat Masriya
Egypt's National Salvation Front (NSF) announced on Sunday that it has formed a permanent committee to defend women's rights and address the attack on their entitlement to these rights.
"The targeting of women is in fact an attack on the identity of the nation. It aborts the goals of the revolution, which were highlighted in the calls for freedom, dignity and social justice," said a statement issued by the NSF.
The statement added that "recent months have seen an unprecedented uptick in the severity of aggression on women and their rights in Egypt."
The statement said that violence against women is part of the violence that is currently inflicted upon all Egyptians by the ruling authority.
"The authority seeks aborting the revolution and breaking the will of the revolutionaries through all possible means," NSF said, stressing the need to stop the physical assaults on women.
The statement referred to the sexual violence practiced on women on the anniversary of the January uprising in Tahrir Square.
Members of Egypt's Shura Council (upper house of the parliament) had then accused women taking part in protests and marches of inviting people to attack them verbally, physically and sexually.
The Front stressed upon its condemnation for acts of violence against women and what it described as a systematic crime against all Egyptians, declaring solidarity with all Egyptian women who are subjected to moral or physical attacks.
In its statement, the Front also condemned the deliberate marginalization of national mechanisms that defend women rights, criticizing what it described as a spreading of tendentious rumors about national figures in order to create confusion.
It also denounced the launching of parallel initiatives to the already existing national mechanisms in order to eliminate them, referring to the presidential initiative to support women rights which was launched on Sunday.
The statement rejected the presidential initiative as it had reservations on its "undeclared objectives".
The Salvation Front also criticized the rise of hate speech against women, holding the regime accountable as an instigator of violence.
It emphasized the need to pursue the perpetrators of violence through local and international legal means.
It also denounced the Muslim Brotherhood's statement on the United Nation's document to "End Violence against Women" which rejected the document on grounds of "contradicting the established principles of Islam, undermining Islamic ethics and destroying the family."
The Front stressed that the Brotherhood gave a false and negative image of Islam.