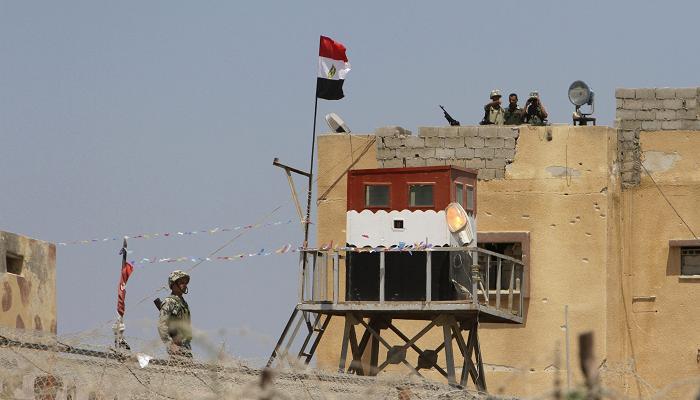 Egyptian soldiers stand guard on the border between Egypt and the southern Gaza Strip, near Rafah August 6, 2012.Ibraheem Abu Mustafa/Reuters
CAIRO, Jun 15 (Aswat Masriya) - Egypt is extending the opening of the Rafah border crossing for two more days to allow the crossing of people stuck "in both directions", state television reported on Monday.
The border crossing was first opened on Saturday in both directions and was due to remain open for three days, ending on Monday.
Egyptian authorities are extending the opening on the "occasion of Ramadan," a month in the Islamic calender, in which Muslims fast from dawn to dusk. The fasting month is due to begin at the end of this week.
With the extension, the crossing will now be opened on Tuesday and Wednesday.
By the end of the first two days, 953 had crossed the border, an official told the state news agency MENA.
Of those who have crossed, 543 individuals entered Egypt and 410 left for Gaza.
The border crossing connects the Gaza strip with Egypt and is currently the strip's main exit and entry point.
Except "partially and intermittently on 15 days", Egyptian authorities have kept the Rafah crossing shut down since October, the United Nations Office for the Coordination of Humanitarian Affairs (OCHA) said in a recent report.
The weekly average number of individuals crossing into and out of Gaza in 2015 has heavily declined in comparison to the previous year.
In 2014, the weekly average number of individuals crossing into Gaza was 923, while an average of 955 left the strip every week, according to OCHA figures.
The average number of people entering the strip per week in 2015 is 217, while, on average 144 leave Gaza every week.
The shutdown of the crossing came after militant attacks in Egypt's North Sinai province left over 30 security personnel dead on October 24, 2014, in one of the deadliest militant attacks in Egypt since a wave of insurgency surged in mid-2013.
The border crossing was last opened from May 26 to 28 in one direction, allowing 1629 people to cross into Gaza, according to OCHA figures.
The Gaza strip is home to 1.8 million people and is currently recovering from destruction caused by 51 days of Israeli military operations last summer.
The densely populated enclave is run by the Islamic Resistance Movement (Hamas), which took over the strip in 2007. Gaza has been under siege since then.