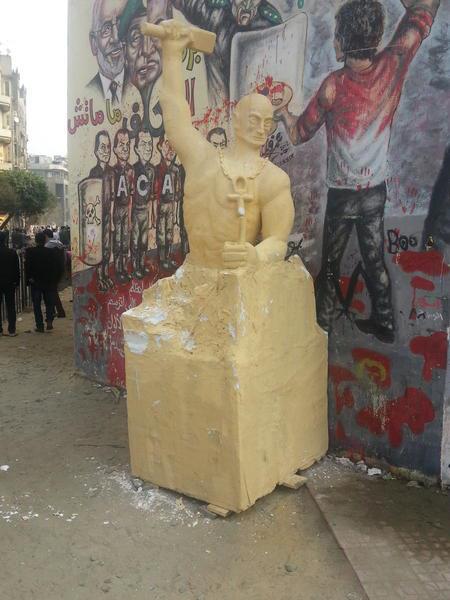 A statue of a muscled man holding a hammer and wearing the key of life of ancient Egypt put up by protesters in Mohamed Mahmoud Street. - Photo from Facebook
Cairo's Tahrir Square witnessed on Tuesday afternoon an increase in the number of protesters rallying to express outrage against President Mohamed Mursi's recent decree.
Mursi issued a decree on Thursday expanding his powers and shielding his decisions from judicial review.
The majority of protesters gathered in Simon Bolivar Square near the U.S. Embassy where scuffles had taken place earlier, reported the state's news agency.

Meanwhile, a field hospital in Talaat Harb Street is receiving injured protesters whose wounds range from bruises and cuts to suffocation.

Some protesters carved a statue shaped as a muscular man to symbolize the strength of the Egyptian uprising.