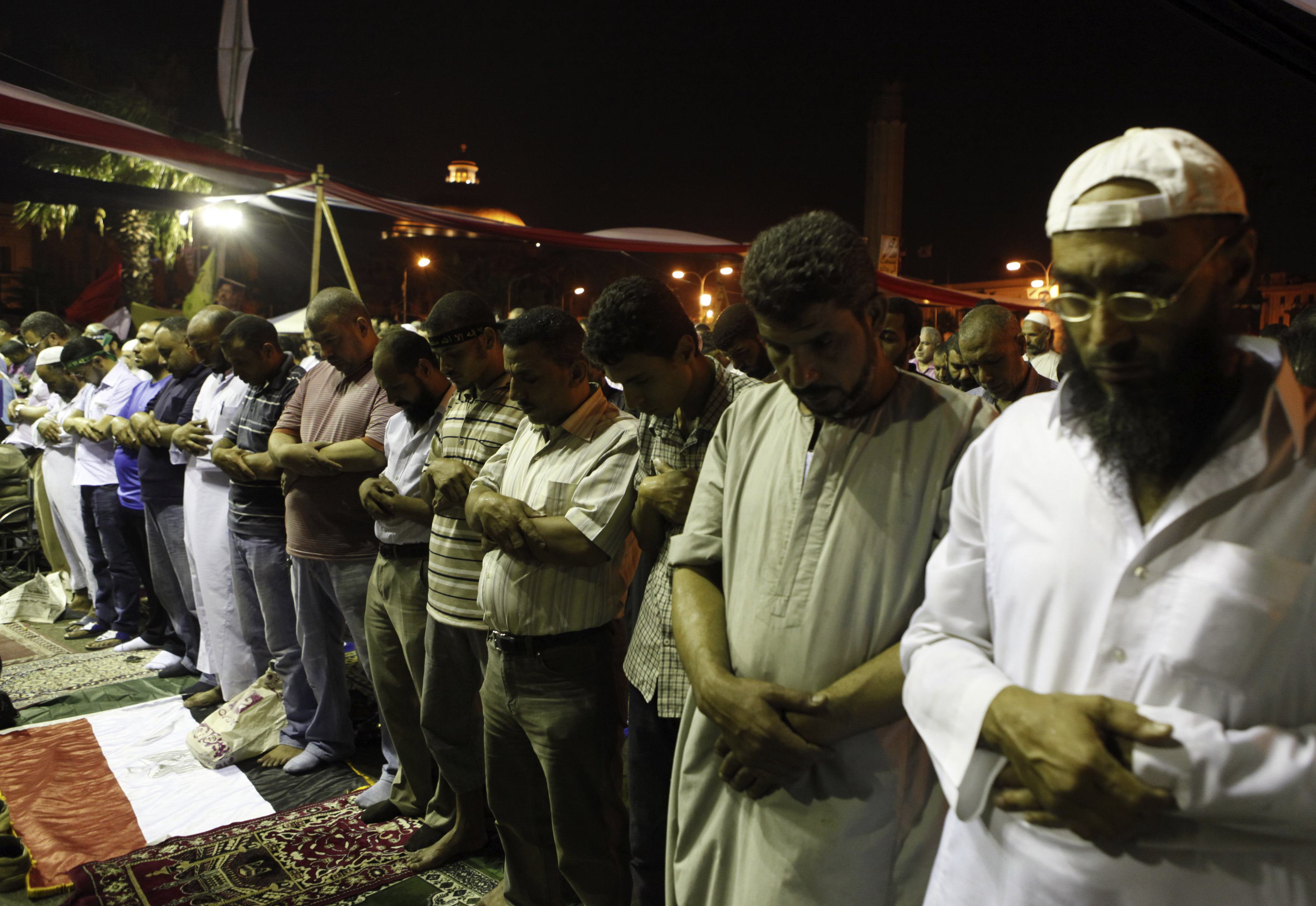 Members of the Muslim Brotherhood and supporters of ousted Egyptian President Mohamed Mursi attend evening prayers during the holy month of Ramadan around Cairo University and Nahdet Misr Square where they are camping in Giza, south of Cairo August 2, 2013. REUTERS/Amr Abdallah Dalsh
Osman El Sharnoubi
In Giza's Istiqama mosque, which lies in the district's main square, rival protests broke out after Eid prayers early on Tuesday morning, as supporters of ousted president Mohamed Morsi exchanged chants with supporters of army chief and Defence Minister Abdel-Fattah El-Sisi.
Worshipers observing the holy Eid Al-Adha feast, where Muslims commemorate Prophet Abraham's willingness to sacrifice his son Ismael for God only to be given a lamb to sacrifice instead, broke out in pro-Morsi and Islamist chants while their opponents chanted in support of El-Sisi – the army commander who led Morsi's removal from office in July after mass protests against his rule.
The protest erupted when some worshipers exiting the mosque flashed a pro-Morsi hand sign to camera crews gathered on top of an overpass covering the prayers.
The sign remembers the pro-Morsi sit-in at Cairo's Rabaa Al-Adawiya Square, which was dispersed by police in mid-August leaving hundreds dead. Protesters either gesture it or carry a famous yellow poster bearing a black hand making the sign.
As a crowd spontaneously formed below the cameras, chants broke out repeating the name Rabaa and against the army.
"Abdel-Fattah [El-Sisi] is the slayer," they chanted, while opponents of Morsi gathered on the other side of a metal railing encircling the mosque and started shouting, "We love you Sisi."
Both protests constituted a small fraction of worshipers. Eventually dozens more joined the pro-Morsi protest and yellow signs started appearing.
"When something is stolen from you you must bring it back peacefully," Asmaa Abdel-Aziz, a state employee, told Ahram Online, saying that Islamists are not terrorists and insisting that Morsi was on his way to doing great things for Egypt.
Ramy, a young man standing in between both groups wearing an expression of consternation, disagreed with Asmaa and said he did not approve of the actions of Morsi's Muslim Brotherhood during its year in power.
However, Ramy was worried protesters on both sides would engage in violence.
"Everyone should have the right to freedom of expression, I just hope this remains peaceful," he said.
Since his ouster many pro-Morsi protests have descended into violent confrontations or have been attacked with deadly force by police.
Despite both sides resorting to insulting both Morsi and El-Sisi, the first likened to a sheep – a derogatory term used against Brotherhood members – and the second to a donkey, the protest, small to begin with, eventually fizzled out.
Meanwhile, the mosque's imam gave a post-prayer sermon that avoided political issues, recounting Islamic traditions regarding Eid and its significance to Muslims.
On the street, parents bought balloons for their children who were dressed in new clothes as is customary.
The Eid holiday lasts four days. On the first day cows and sheep are slaughtered and meat is distributed to the needy.