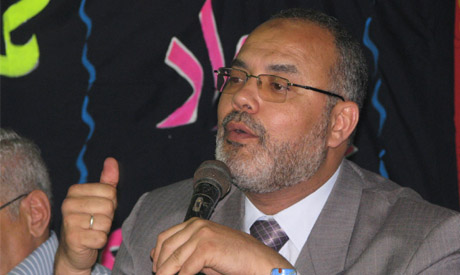 Saad El-Hussieny, Governor of Kafr El-Sheikh
Armed Forces spokesperson Ahmed Ali announced Wednesday that Egypt's border guards, not the military police, were responsible for the dog attack on Sunday protesters in Egypt's delta governorate Kafr El-Sheikh and they are being investigated.
According to Ali, the prosecution stated that the border guards acted of their own accord and not under official orders, after the governor's office called for support when fights broke out among protesting crowds outside the governorate headquarters.

On Sunday night, the demonstration, which was organised by the Egyptian Popular Current to denounce Muslim Brotherhood control of the state, turned violent when members of the Brotherhood turned up to confront the crowds.

Security forces responded by using their canine unit, leaving three protesters injured and one hospitalised.
The spokesperson described the guards' actions as "a misjudgement," arguing that the security officers neglected to investigate the nature of the protest before responding.

However, the military representative asserted that the response was guided by "good intentions."
Ali had earlier stressed that the military police were in no way involved in Sunday's violent dispersion, adding that both the military police and border guards do not have canine units.
"The dog used in the incident belongs to one of the guards, which is another violation that demands punishment," stated Ali.
He added that the entire incident is currently being looked into by military prosecution in order to determine which officer is responsible.
He further stressed that the Armed Forces express their regret about the incident.
Governor of Kafr El-Sheikh and Muslim Brotherhood member Saad El-Husseini denounced the incident on Monday, saying on his Facebook page that "these things are not supposed to happen, and I assure Kafr El-Sheikh that I value every residents."
A protest has been scheduled for Wednesday by the Revolution's Youth Union, demanding the dismissal of the Brotherhood governor, whom they blame for the vicious attack.