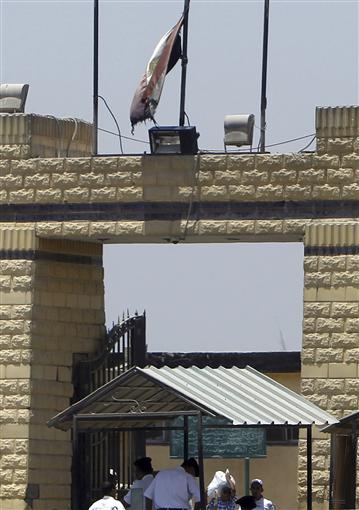 Policemen and people walk in front of the main gate of Tora prison, where former Egyptian president Hosni Mubarak and his former Interior Minister Habib al-Adli are held at, in the outskirts of Cairo June 4, 2012. REUTERS/Amr Abdallah Dalsh
CAIRO, May 25 (Aswat Masriya) - Egyptian prosecutors authorised on Monday the burial of a Muslim Brotherhood figure who died this morning while in detention, inside a hospital, a prosecution official said.
Mohamed al-Falahgi was detained in the port city of Damietta, in January 2014 on charges of "joining a terrorist" group, inciting violence and funding protests.
Falahgi died in hospital as a result of hepatotoxicity, said Ihab al-Husseiny, a top prosecutor in Damietta, after a representative from the prosecution inspected the body of the deceased.
Husseiny ordered Falahgi's burial after confirming that there is "no criminal aspect" to the death.
Prosecutors cited Falahgi's brother as saying that he had liver disease and that his death was "of natural" causes.
Yet, an online news portal affiliated with the Brotherhood said Falahgi died as a result of the "deliberate medical negligence" of authorities towards detainees who "reject" the current regime.
Falahgi is the second Brotherhood figure to die in prison this month. On May 13, Brotherhood leading figure Farid Ismail who was serving a seven year sentence for violence related charges died.
The Interior Ministry said Ismail died while receiving treatment and that he suffered from hepatic coma, adding that he was infected with the hepatitis C virus.
The Muslim Brotherhood's political wing, the now defunct Freedom and Justice Party, meanwhile said Ismail died "after over a year and a half of astounding resilience in solitary confinement ... and after sustaining a stroke and being denied medical treatment for days."