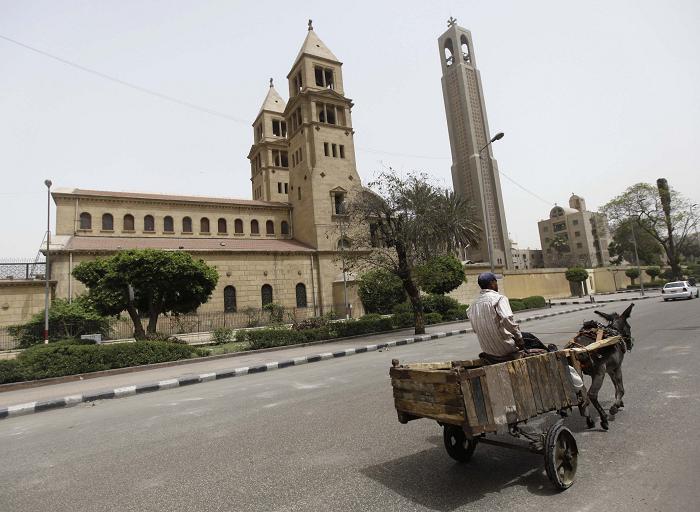 A man rides a donkey cart in front of the main Coptic cathedral in Cairo on April 8, 2013. REUTERS/Amr Abdallah Dalsh
CAIRO, Oct 7 (Reuters) - The government plans to establish an industrial hub in southern Egypt, one of the poorest and traditionally most neglected regions of the country, to capitalise on the area's mineral resources and potential for tourism.
The project will develop four industrial zones to manufacture glass and cement, mine sulphur and phosphates and refine gold, The cabinet said in a statement on Monday.
The government did not specify how much the project would cost or how it would fund it, but said it hoped to complete the plan by the end of the year.
The zones will be located between the governorates of Qena and the Red Sea, where Safaga port and road networks will be upgraded to help boost tourism.
Egypt has been crippled by more than two years of economic and political instability, and the government has come under pressure to address social inequalities since a revolution in early 2011 that toppled autocratic leader Hosni Mubarak.
Gross domestic product grew a tepid 2 percent in the year to June 30 - far too slow to make an impact on youth unemployment, estimated at over 20 percent.
(Reporting by Shaimaa Fayed; Editing by Yara Bayoumy; Editing by John Stonestreet)