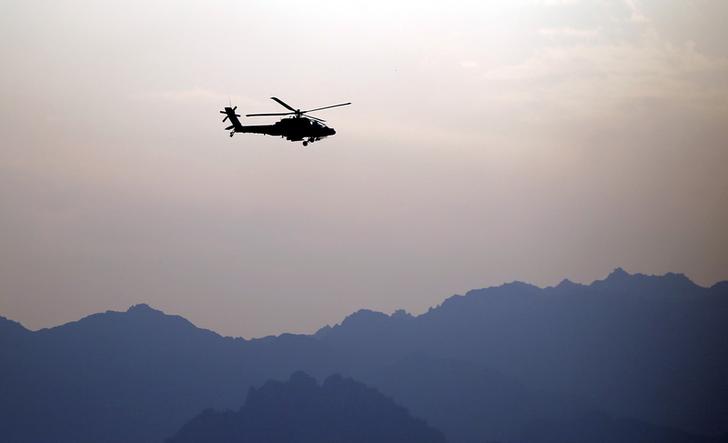 An Egyptian military helicopter flies around the congress hall during the Arab Summit in Sharm el-Sheikh, in the South Sinai governorate, south of Cairo, March 28, 2015. Arab League heads of state will hold a two-day summit to discuss a range of conflicts in the region, including Yemen and Libya, as well as the threat posed by Islamic State militants. REUTERS/Amr Abdallah Dalsh
By Yusri Mohamed
ISMAILIA (Reuters) - Thirty Egyptian tribes based in Sinai said on Sunday they would confront militant groups including an Islamic State affiliate that has killed hundreds of soldiers and police, in a possible boost to Egypt's efforts to improve security.
The Sinai Tribal Federation said it had held its first meeting on Sunday to discuss ways to tackle militants seeking to topple the U.S.-backed Cairo government.
It would work "in coordination with the relevant agencies and institutions of the formal state ... to support the state and the armed forces in their war against terrorism", the alliance said in a statement.
An insurgency based in the Sinai Peninsula has intensified since 2013, when then-army chief Abdel Fattah al-Sisi removed president Mohamed Mursi of the Muslim Brotherhood from power following mass protests against his rule.
The tribal federation agreed to form two groups of youth volunteers, one of which would help security forces gather information on suspected militants or their supporters and monitor routes used to smuggle weapons.
The second would participate in the military campaign alongside Egypt's armed forces, among the biggest in the Middle East, the statement said.
It was not immediately clear why the tribes in Sinai, a strategic peninsula bordering Israel, Gaza and the Suez Canal, had now decided to weigh in behind a central government that they have accused of marginalising them in the past.
Security sources say that in the past few weeks, the Sinai Province militant group, which supports the Syrian and Iraqi-based Islamic State, has executed prominent members of the tribes.
A war of words between the two sides has escalated, with militants saying they would expand their attacks.
Tribal revenge is a way of life in the Sinai; tribal leaders have threatened to respond and have captured some Sinai Province members and handed them over to the army.
Sisi, who is now president, has weakened the Muslim Brotherhood with a tough crackdown on what was once one of the Middle East's best organised political groups.
But he has been less successful in suppressing Sinai's militants, who still carry out attacks against soldiers and police despite constant pressure from the military.
Sisi has also expressed concern about the threat from militants, including some professing loyalty to Islamic State, who are thriving in the chaos of neighbouring Libya, to the west.
Although tribal support for security forces is a vote of confidence in the state, long-term backing may hinge on the creation of jobs and better services in Sinai.
(Writing by Michael Georgy; Editing by Kevin Liffey)