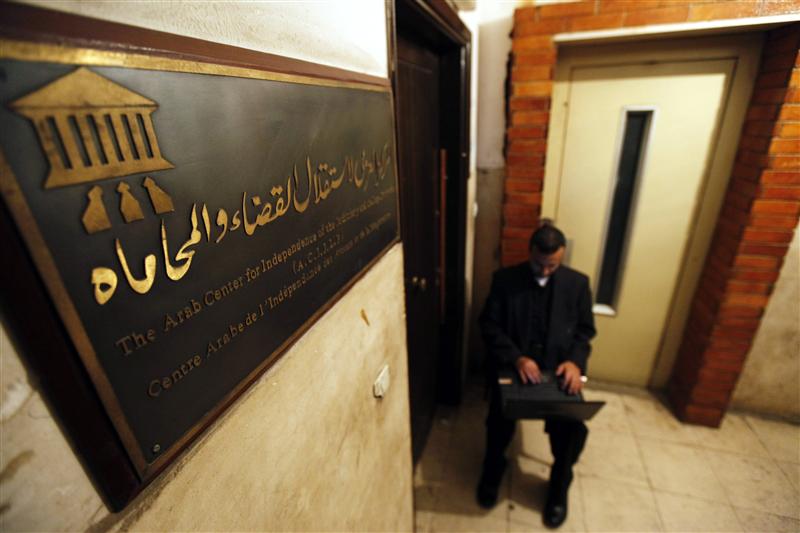 An Egyptian human rights worker uses a laptop computer at the entrance of the office of an non-governmental organization in Cairo December 31, 2011. REUTERS/Mohamed Abd El-Ghany
CAIRO, Oct 27 (Aswat Masriya) – Egyptian authorities have tracked direct funding provided by some embassies to registered and unregistered civil society organisations operating in Egypt, said a deputy for Egypt's foreign minister.
Mohamed Moneeb, deputy foreign minister for the Americas, said that such funding violates the 1961 Vienna Convention on Diplomatic Relations, reported state-run news agency MENA. The convention regulates the work of diplomatic missions operating in foreign countries.
"State institutions will face any attempts to influence Egypt's national security," Moneeb reportedly said. He added that such "violations" will be "firmly confronted" by the ministry and all state institutions, reported MENA.
President Abdel Fattah al-Sisi amended in September Article 78 of Egypt's Penal Code in a manner which makes defendants accused of receiving foreign funds with the purpose of "harming the state" subject to being sentenced to life in prison or death.
Several civil society organisations in Egypt depend on foreign funding due to the scarcity of their resources. The current civil society law obliges organisations to seek the government's permission before raising any funds to support them.
Civil society organisations have long called for the repeal of this law and its replacement with a less restrictive legislation.