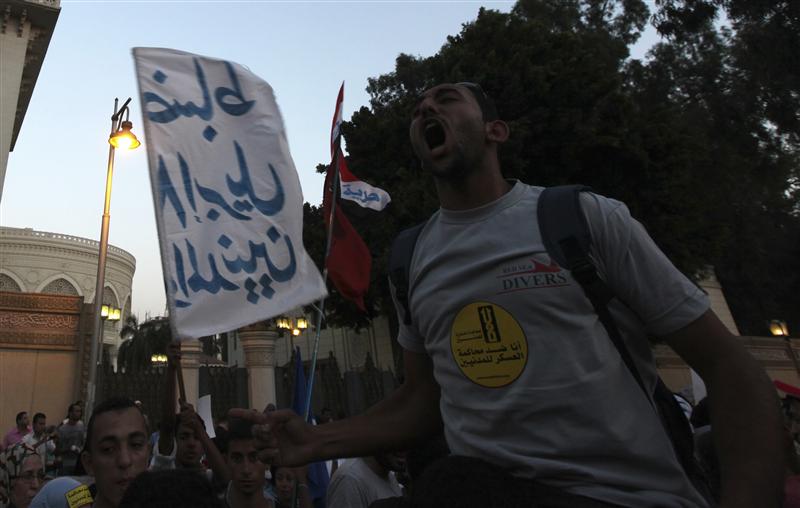 Activists chant against military trials for civilians by the presidential palace - Reuters
CAIRO, Dec 28 (Aswat Masriya) – The Sharqiya prosecutor referred on Sunday 15 students at the Zagazig University to the military judiciary for "rioting", "terrorising citizens" and exercising violence.
The students are believed to be supporters of the banned Muslim Brotherhood, which was listed as a terrorist organisation last December. They are charged with joining a terrorist organisation, protesting without notice, resisting the authorities and vandalism, reported state-run news agency MENA.
The students were arrested after staging an on-campus protest then marching to the Police Club nearby. They reportedly vandalised the club and attacked security forces guarding it, injuring three security personnel and a civilian.
An Egyptian court referred five students at al-Azhar University accused of arson to a military tribunal on November 16, announcing its lack of jurisdiction in the case.
Egypt's President Abdel Fattah al-Sisi issued on October 27 a new law which refers crimes committed against the state's public and "vital" facilities to the military judiciary.
The law, criticised by human rights organisations for expanding the jurisdicition of military tribunals on civilians, was passed shortly after the death of at least 33 security personnel in militant attacks in Sinai on October 24.
The legislation authorises armed forces personnel to cooperate with the police in securing "vital" facilities. It is valid for two years.
Article 204 of Egypt's new constitution already allows referring civilians to military trials "in cases which represent a direct assault on armed forces institutions, their camps or anything that falls under their authority, alongside assaults on military or border zones, and military institutions, vehicles, weapons, ammunition, documents, secrets, public funds, or factories."
The article was strongly condemned by civil society organisations and a number of political movements before the constitution passed.
No Military Trials for Civilians, a group campaigning against referring civilians to military tribunals, has rallied protests against this article as well as previous legislations which allow the military trial of civilians.