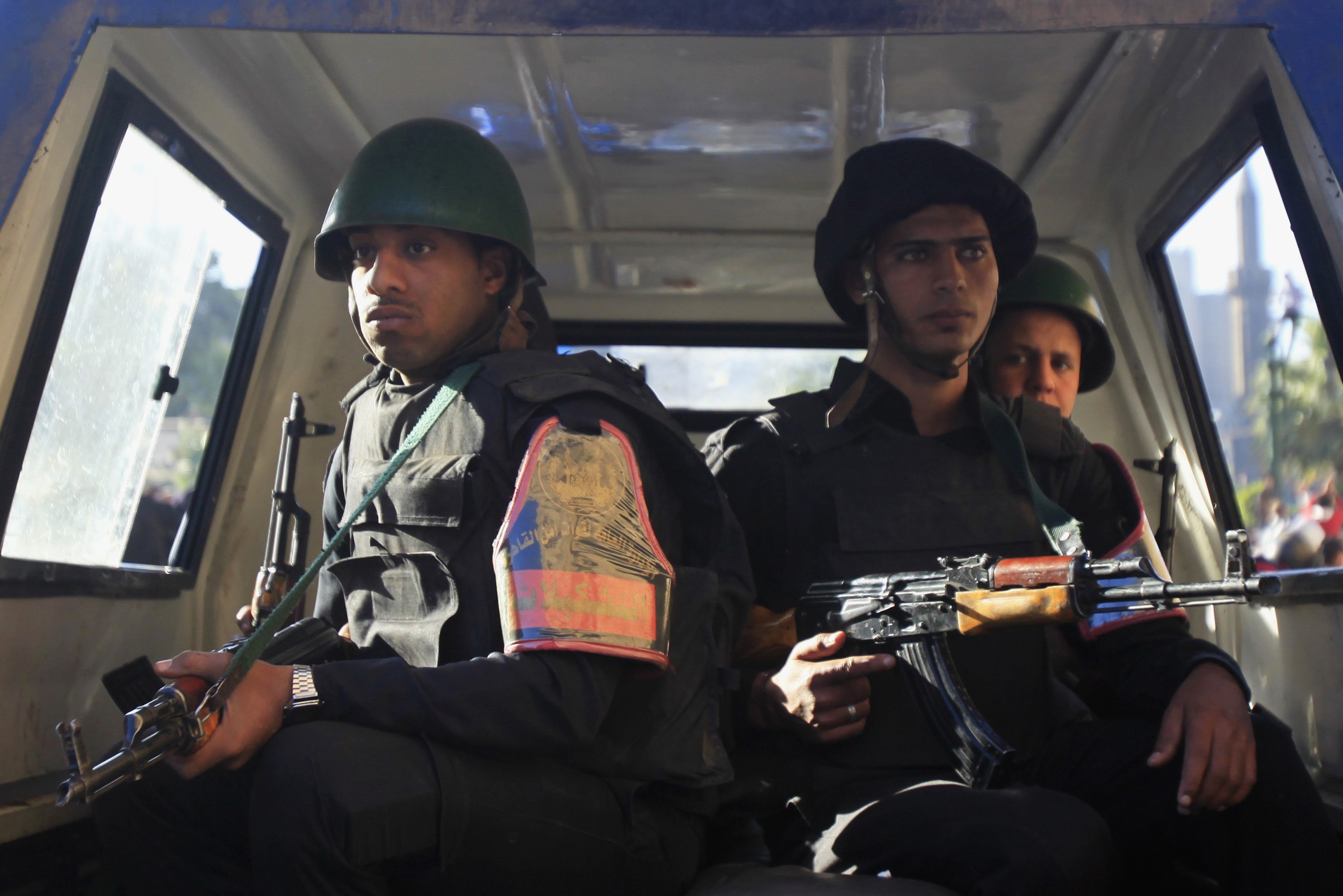 Police officers wait in their vehicle in front of the damaged Cairo Security Directorate building, which includes police and state security, and Museum of Islamic Art building, after a bomb attack in downtown Cairo, January 24, 2014. REUTERS/Amr Abdallah Dalsh
CAIRO, Feb 9 (Reuters) - A Cairo prosecutor has ordered the detention of an Egyptian accused of altering photographs before sending them to the Qatar-based Al Jazeera news network and of belonging to a terrorist organisation, judicial sources said on Sunday.
Egyptian authorities have arrested several Al Jazeera journalists in recent months and accuse the network of bias towards the opposition Muslim Brotherhood.
Egypt has cracked down hard on the Brotherhood since the army ousted one of its leaders, Mohamed Mursi, from the presidency in July following mass protests against his rule. The authorities have declared the Brotherhood a terrorist group.
Hassan El Banna is accused of belonging to a terrorist group, an apparent reference to the Brotherhood, and of doctoring pictures to damage the image of security forces, a judicial source said.
Banna was arrested on Saturday and ordered detained for 15 days pending investigations, two judicial sources said.
A security source said his movements had been monitored before his arrest and that he had supplied Al Jazeera's Egyptian channel with manipulated photographs, but was not an employee of the channel. A judicial source said he was not a professional photographer and did not officially work for Al Jazeera.
Al Jazeera is funded by the Gulf Arab state of Qatar, which was a strong backer of the Brotherhood. The network's ties with Egypt have been strained since Mursi's ouster.
Critics accuse Egypt's army-backed government of widespread human rights abuses and say it has undermined democratic gains made since a popular uprising toppled autocrat Hosni Mubarak in 2011.
The government says it is committed to democracy.
The Cairo offices of Al Jazeera have been closed since July when they were raided by security forces.
Last month, Egypt's public prosecutor announced he would put four journalists he said worked for Al Jazeera on trial on charges of aiding members of a terrorist group.
The network has described the charges as absurd.
Three Al Jazeera journalists - Australian Peter Greste, Canadian-Egyptian Mohamed Fahmy and Egyptian Baher Mohamed - were detained in Cairo on Dec. 29 and remain in custody, as does a fourth journalist working for the network.
The man arrested on Saturday shares his name with the founder of the Muslim Brotherhood who was assassinated in 1949, but there was no suggestion that the two were related. (Reporting By Shadia Nasralla; Editing by Rosalind Russell)