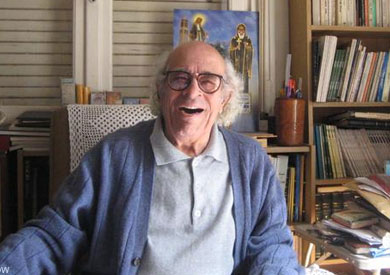 Late Novelist Edwar al-Kharrat who passed away on Nov. 30, 2015. Photo from Al-Shorouk news service
By Hend Kortam
CAIRO, Dec. 1 (Aswat Masriya) - Novelist and critic Edwar al-Kharrat passed away on Tuesday, succumbing to a short-lived illness which ended his life at 89.
The author of "Rama and the Dragon", which is among the top 10 novels in a list of the 100 best Arabic novels compiled by the Arab Writers Union, was recently diagnosed with pneumonia. He slipped into a coma on Monday and died on Tuesday morning in a hospital in Cairo's Zamalek district.
Said to be one of the most influential novelists in the Middle East, Kharrat was born in 1926 in the Mediterranean city of Alexandria to a Coptic family.
He will be buried in the family's burial ground in Alexandria, his son told state-run Al-Ahram news service.
His novels and short stories have been translated into English, French, Italian, German and even Swedish, according to a profile on him in the Arab World Books website.
Kharrat was the leading figure in an Arab literary movement called the Sixities Generation, but the award-winning novelist also wore many other hats working as a translator, writing scripts for radio, a newspaper editor and even once took up a job in banking.
Kharrat studied law at the University of Alexandria, graduating in 1946, after which he became politically active and spent two years in detention following his arrest in 1948 for engagement in left-wing politics.
An article published on Al Jadid magazine for arts and culture in the Arab world in 1996 to celebrate Kharrat's 70th birthday said he "played the role of mentor and supporter for a whole generation of young novelists and poets."
In his own words, as cited by Al Jadid, this is what Kharrat said about why he writes: "Why do I write then? I write because I don't know why I write. Does the impulse come from some powerful force? I know that I use it as a weapon to bring about change, change both in the self and others…for something better, more beautiful perhaps… something warmer to ward off the bitter chill of barbarity and loneliness… something soothing in the oppressive heat of violence and suffocation… "