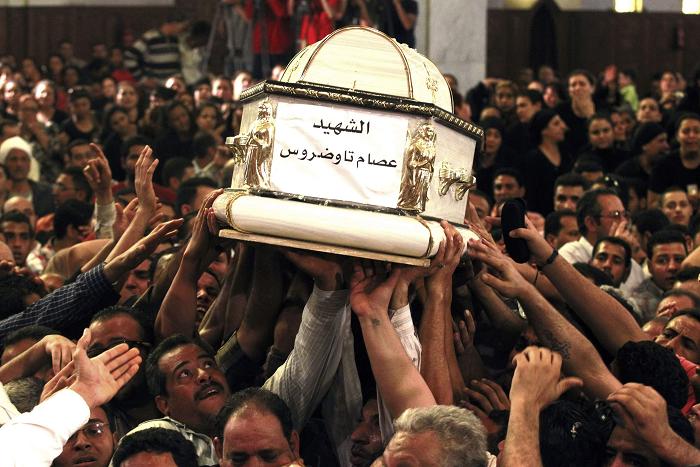 Coptic Orthodox Christians carry the coffins of men who died in clashes between Muslims and Christians in El Khusus north of the Egyptian capital, during their funeral at the main cathedral in Cairo April 7, 2013. REUTERS/Mohamed Abd El Ghany
Shots were heard outside Saint Mark's Coptic Orthodox Cathedral in Cairo on Sunday as thousands mourned four men who were killed in Egypt's most recent sectarian violence.

Four Christians and one Muslim man were killed in the northern town of Khusus over the weekend when the two groups exchanged fire, security sources had reported.

Carrying wooden crosses and chanting religious slogans, the mourners demanded justice and the fall of the Muslim Brotherhood regime, reported the state news agency.

Confrontations erupted in Ramsis Street outside the cathedral with mourners and assailants clashing and some mourners cutting off the road.

Rubber bullets, live rounds and teargas were heard and seen by the cathedral but their source is yet to be determined.