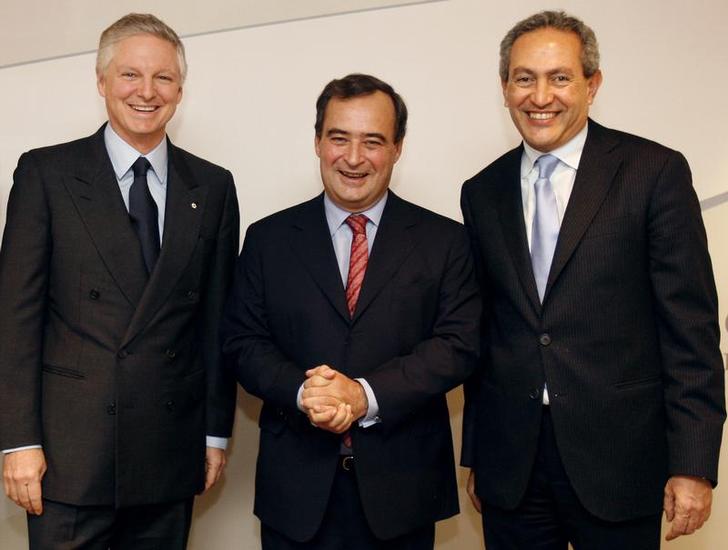 Paul Desmarais (L), director of Groupe Bruxelles Lambert (GBL), Bruno Lafont (C), chief executive of French building material Lafarge, and Nassef Sawiris, director and chief executive of Orascom Construction Industries (OCI), pose for photographers in Paris December 10, 2007. REUTERS/Benoit Tessier
CAIRO, Nov 6 (Reuters) - Amsterdam-listed OCI said on Thursday it planned to spin off its construction and engineering business and list it on stock markets in Egypt and the United Arab Emirates in the first quarter of 2015.
The new company is expected to be named Orascom Construction Ltd and will include all construction assets and subsidiaries of OCI as well as its 50 percent stake in BESIX Group, the group said in a statement.
The fertiliser and chemicals division will constitute OCI's core business after the spin-off and remain listed in the Netherlands, it said.
The news from OCI comes two days after the company won a two-year dispute with Egypt's tax authority, hailed by billionaire CEO Nassef Sawiris as a victory for the rule of law. Sawiris, one of Egypt's richest men, told Reuters that his company would make "huge" investments in Egypt after the ruling.
Comments by Sawiris, a prominent member of the country's wealthiest business family, are watched closely by the types of foreign investors the country is seeking to win back after more than three years of political turmoil.
Orascom Construction will focus on engineering and construction projects including plans to build a 2,000 to 3,000 megawatt coal-fired power plant on Egypt's Red Sea, which the company announced on Wednesday.
OCI said in its statement it was also keen to be among the first companies to benefit from plans by Egypt's regulatory authorities to encourage dual listings. Egypt's stock exchange has seen activity slow down since the 2011 uprising that overthrew Hosni Mubarak.
"We have been trying for some time to list new companies on the stock exchange and the listing of a company like Orascom Construction on the Egyptian bourse will be an addition to the market and its participants," Egyptian bourse head Mohamed Omran told Reuters by telephone.
Investors have been hesitant to return to Egypt since veteran autocrat Mubarak was deposed in 2011, followed by more unrest and the army overthrow of Islamist President Mohamed Mursi in July 2013.
President Abdel Fattah al-Sisi, the former army chief who ousted Mursi following mass protests, has pledged to rebuild the economy and fix state finances battered by the drop in foreign investment and tourism.
(Reporting by Ehad Farouk, Writing by Lin Noueihed; Editing by Susan Thomas and Pravin Char)