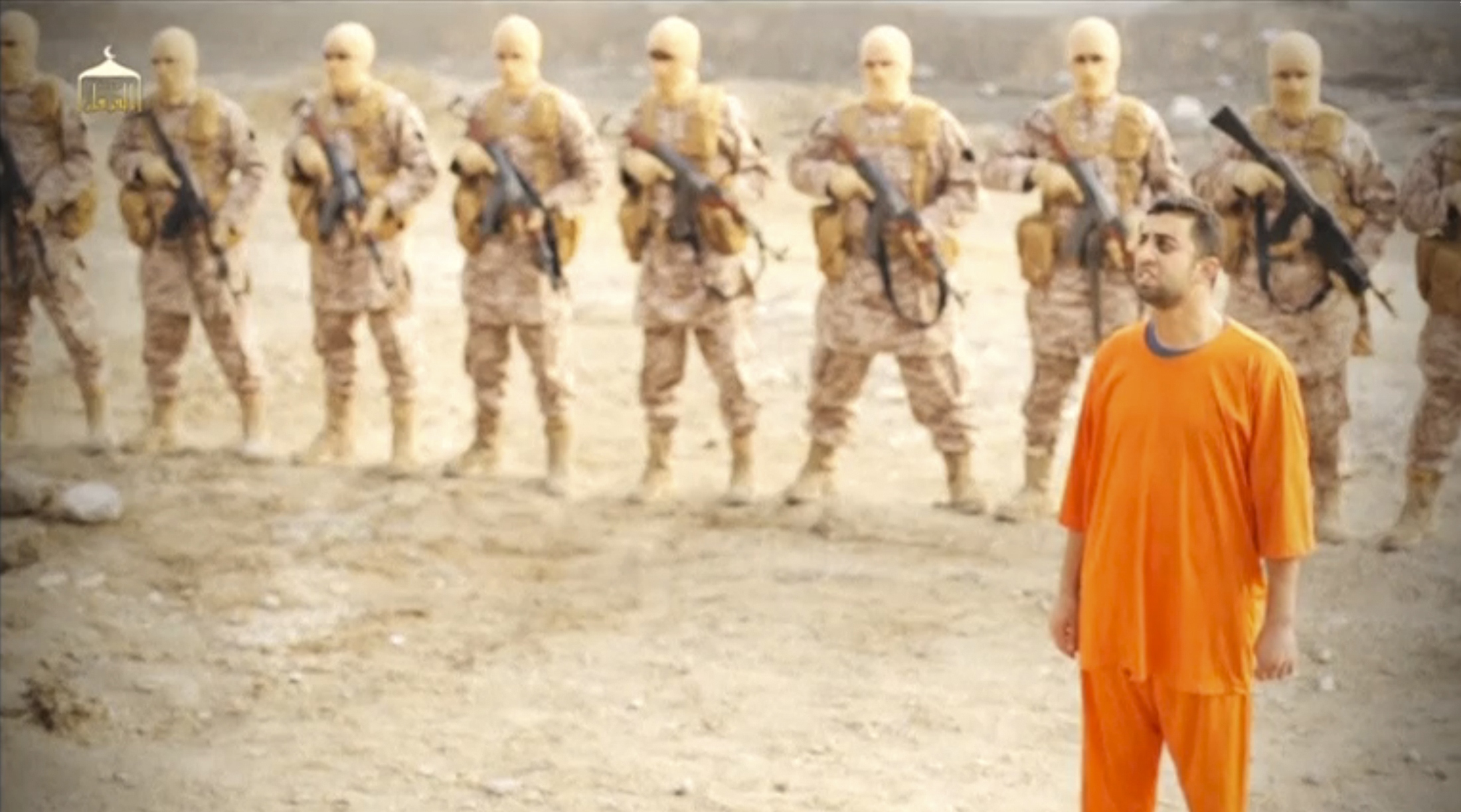 A man purported to be Islamic State captive Jordanian pilot Muath al-Kasaesbeh (in orange jumpsuit) stands in front of armed men in this still image from an undated video filmed from an undisclosed location made available on social media on February 3, 2015. REUTERS/Social media via Reuters TV
CAIRO, Feb 3 (Aswat Masriya) - Egypt strongly condemned on Tuesday the killing of a Jordanian pilot by Islamic state fighters, describing it as "cowardly" and "barbaric," Foreign Ministry spokesman said.
Muath al-Kasaesbeh, was abducted by Islamic State fighters when his plane crashed over Syria, while on a mission against the group last December. A video released by Islamic State fighters today purportedly showed him being burned alive. Aswat Masriya could not verify the authenticity of the video.
Jordanian armed forces however said Kasaesbeh was killed on January 3, Jordanian news agency PETRA reported.
Islamic State fighters have gained control of large areas of Iraq and Syria over the past summer.
Egypt announces its solidarity with Jordan in confronting terrorism, Foreign Ministry Spokesman Badr Abdel Atty said. He expressed Egypt's condolences to the family of Kasaesbeh and the Jordanian people.
Egypt has been waging a wide-scale campaign against militancy, which is mostly active in Sinai, since the military ouster of Islamist President Mohamed Mursi in 2013, following mass protests against his rule.
At least 30 people were killed and 50 others were injured on Thursday in four separate attacks against security installations in the governorate.
Egypt's most active militant group Ansar Bayt al-Maqdis, has changed its name to Sinai Province after pledging allegiance to the leader of the Islamic State fighters in Iraq and Syria. The Sinai-based militant group claimed responsibility for the attacks on its Twitter account hours after they were launched.