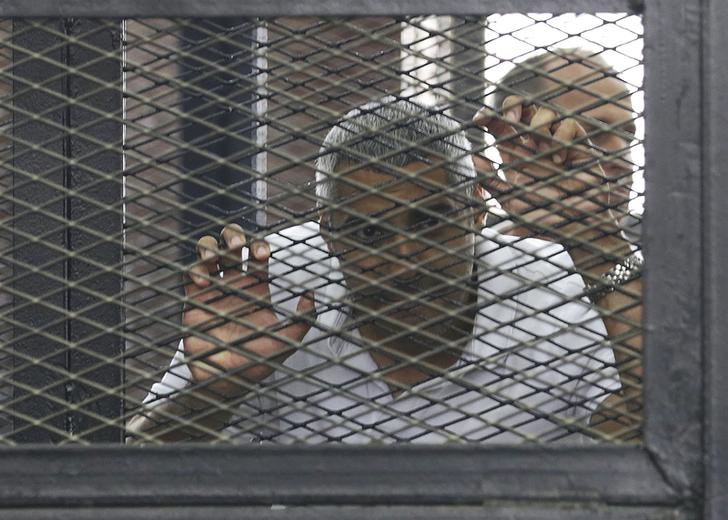 Mohamed Fahmy stands behind bars as he waits to listen the ruling at a court in Cairo June 23, 2014. REUTERS/Asmaa Waguih
CAIRO, Feb 3 (Aswat Masriya) - Jailed Al Jazeera journalist Mohamed Fahmy revoked his citizenship, in hopes of benefiting from a presidential decree which could see his release from prison and deportation, state television reported on Tuesday.
Fahmy was sentenced to seven years in prison alongside journalists Peter Greste and Baher Mohamed in June 2014, on charges of defaming Egypt and spreading false news. All three journalists work for the Qatari news network Al Jazeera.
The Egyptian Court of Cassation ordered a retrial in the case on January 1.

Greste was released from jail and deported on Sunday. His release is based on a presidential decree allowing the deportation of foreign defendants and convicts "whenever the [state's] supreme interest necessitates so," issued last November.
Greste's release came after he spent 400 days behind bars in Egypt. The trio was arrested on December 29, 2013.

Dual national Fahmy needed to revoke his Egyptian citizenship to benefit from the decree. He would then be treated as a Canadian national and could be deported to Canada.
Al Jazeera English announced on Tuesday that Fahmy "could be released within hours," Reuters reported.
During his first interview following his release from prison, Greste said on Monday if it's appropriate for him to be free then it should be right for his jailed colleagues to be free.
Greste said he feels "incredible angst" at leaving them behind, in the interview aired on the Qatari network.