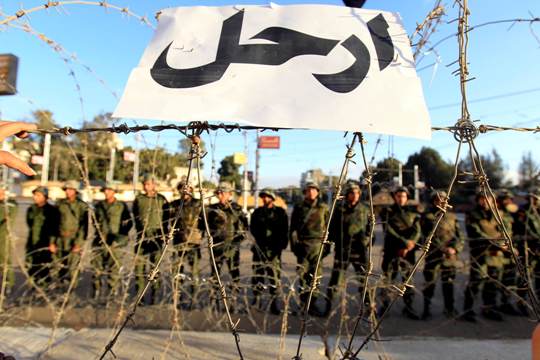 A banner for protesters saying "Leave" in front of the presidential palace in Cairo on December 7, 2012 - Mohamed Abdel Ghani/Reuters
The prosecution of Cairo's Heliopolis, headed by Judge Ibrahim Saleh, ordered on Sunday the criminal investigations of five of the accused of torturing and detaining victims at the presidential palace on December 5.
The prosecution has already received the testimonies of some of the victims, reported the Middle East News Agency.
Some of the people detained during the 5 December clashes have accused the Muslim Brotherhood of torturing them.
Supporters of President Mohamed Mursi have forcibly dispersed a sit-in held against the president at the presidential palace.
The opponents of Mursi have staged a sit-in to protest a decree he issued in November giving him sweeping powers and shielding his decisions from judicial challenges.
The clashes resulted in the death of ten people and the injury of hundreds