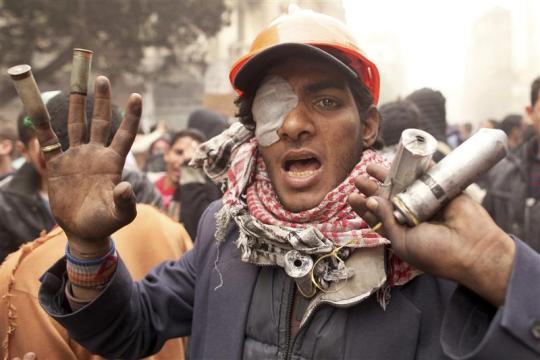 Protester holding high an empty birdshot canister - Mohamed Salem/Reuters
President Mohamed Mursi received on Wednesday the final report of the fact-finding committee that was formed last July to investigate the killings of protesters during the January 2011 uprising, a statement of the presidency said.
The committee which was formed according to a presidential decree is in charge of probing the killings of and assaults on protesters since the beginning of uprising until power was transferred to Mursi in June 2012.
Mursi ordered head of the committee Mohamed Ezzat Sharbas and its secretary general Omar Marwan to deliver the report to the general prosecution.
The president affirmed the need for giving the prosecution the opportunity to begin investigation without external influence since the prosecution is responsible for determining the position of the defendants and evaluating the evidence provided.