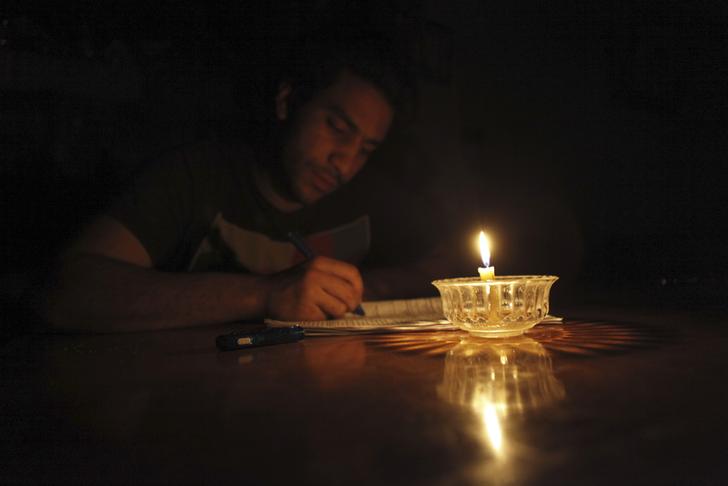 Mostafa Khaled, 20, studies by candlelight for his early morning exams during a power cut in Toukh, El-Kalubia governorate, about 25 km (16 miles) northeast of Cairo May 26, 2013. REUTERS/Amr Abdallah Dalsh
CAIRO, Aug 20 (Aswat Masriya) – Prime Minister Ibrahim Mehleb promised on Wednesday that "gradual improvement" in the power crisis Egypt is currently facing will be witnessed starting next Sunday.
In a press conference following a cabinet meeting with President Abdel Fattah al-Sisi, Mehleb added that 50 percent of the current power deficit will be provided by the end of August.
"We admit we have a problem," Mehleb told reporters in the televised conference. "But we are really facing it."
The prime minister said that Egypt is currently in need of at least 10,000 megawatt of electricity.
Electricity Minister Mohamed Shaker said during Wednesday's press conference that the authorities are taking measures to increase power by 2560 megawatt by the end of August, 520 megawatt by September and 1080 megawatt by October. He added that a new power plant will begin operating in November; the previous measures would increase power by over 4000 megawatt by November.
The cabinet has earlier announced a plan to operate four new power plants by this summer. The power plants should provide 3700 megawatt worth of energy.
On Saturday, Mehleb owed the latest surge in power outages to the delay in operating two new power plants.
"The problem is that we relied on natural gas as sole source of energy [in producing electricity]," Shaker said on Wednesday. He added that with the deficiency in natural gas, the power crisis surged.
Petroleum Minister Sherif Ismail said the ministry is working on increasing natural gas production by 500 million square feat throughout August, September and October. He added that the state will start importing liquefied natural gas in December.
Ismail said that the government was working on a giant natural gas field which was stalled in November, 2011 due to political turmoil. He added that this field, which should have started producing gas this year, would have contributed to the natural gas production the state is currently in dire need of.
Ismail said the natural gas field is expected to start production by the second half of 2017. It would increase gas production by 25 percent, he added.
Since the summer of 2012, Egypt has been facing its worst energy crisis in years, with power outages on the rise. Power cuts have specifically surged since the start of this summer.
On Saturday, the ministry of interior said it was able to locate six "terrorist cells" which have been targeting power plants in the governorates of Giza, Menoufiya, Gharbiya, Kafr el-Sheikh, Sharqiya and Alexandria. The ministry added it arrested a number of them
Egypt's electricity grid underwent a number of attacks recently. Mehleb said on Saturday that over 300 acts of vandalising electric pylons have been reported throughout July.