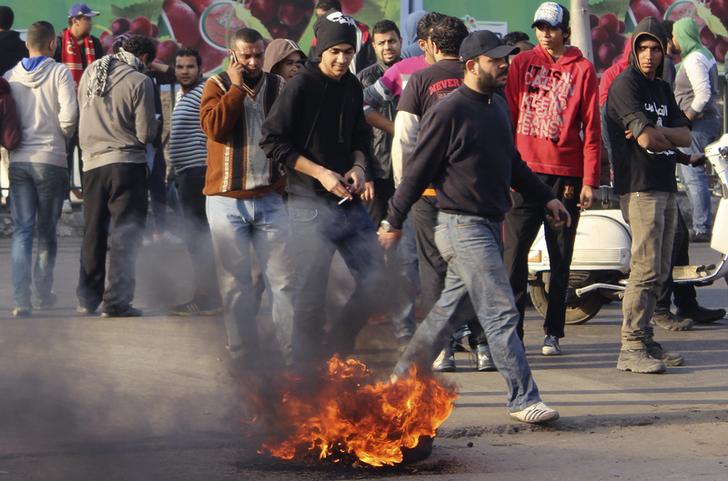 Ultras soccer fans gather around tyres they burnt over a bridge during a rally to demand justice for 74 people killed in a stadium stampede last year, in central Cairo January 23, 2013. REUTERS/Stringer
CAIRO, Sept 22 (Aswat Masriya) – An appeal against the release of 26 members of the Zamalek Sporting Club's Ultras fan group was accepted on Monday, sending the defendants back to jail for 15 days.
An Egyptian judge had ordered the defendants' release from custody on Saturday on a five hundred Egyptian-pound bail each. The public prosecution nevertheless appealed the release order.
The defendants were arrested following clashes between security forces and members of Zamalek's Ultras White Knights (UWK) on August 30. UWK members called for a march in Cairo's Shubra neighbourhood decrying the arrest of fellow group members over alleged complicity in an attempt on the club chairman's life.
Eleven more defendants arrested on the same day were released from custody on Wednesday, the fan group had said.
The defendants were accused of protesting without notice, joining an illegal group, practicing violence and acts of "thuggery", attacking citizens, vandalising public and private properties, blocking roads and possessing firearms.
Security forces arrested 11 UWK members over the alleged assassination attempt, reported state-run al-Ahram. The group says security forces broke into the homes of those arrested and allegedly tortured them while in custody.
The Cairo Court for urgent matters will issue its verdict on dissolving the UWK and listing it as a terrorist group on September 27.
Mortada Mansour, Zamalek club chairman, has filed an urgent lawsuit to ban the club's ultras fan group after announcing that he was subjected to a failed assassination attempt.
Mansour also accused the group of being involved in rioting acts that include burning the headquarters of Egyptian Football Association, breaking into the Zamalek Club and wounding a number of workers in the club.