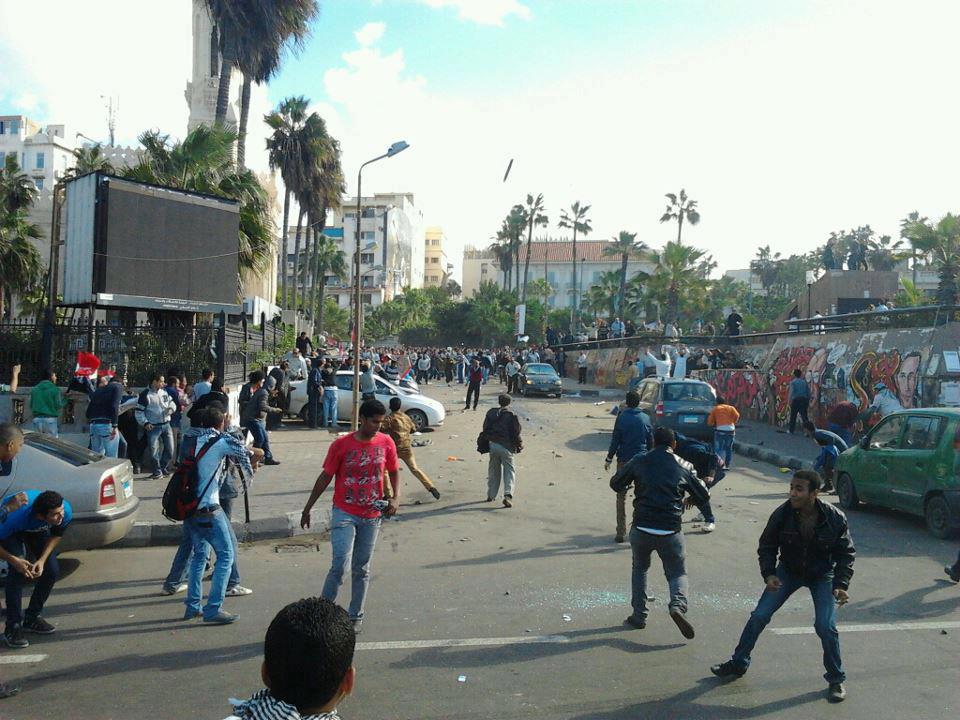 Clashes in Alexandria between supporters and opponents of President Mohamed Mursi - photo from the Popular Current Facebook page
Cairo, Nov. 15 (Aswat Masriya) - A 15-year old boy was killed on Friday in Alexandria in clashes between Muslim Brotherhood supporters and residents of al-Siouf neighbourhood in Alexandria.
The father of the deceased Ihab Ahmed Selim Abdellatif accused the supporters of the Brotherhood and of deposed President Mohamed Mursi of killing his son by shooting him in the neck and the chest.
Security forces were able to disperse the clashing protesters and restore control, a statement for Alexandria's security headquarters said.
They also arrested seven Brotherhood elements who were involved in killing Ihab Ahmed Selim, the statement added.
On the other hand, a 13-year old was run over by a bus during a chase between police forces and Brotherhood supporters.
A medical source said that some demonstrators brought the boy to Mabarret al-Asafra Hospital where he died of internal bleeding, adding that the boy did not suffer from any external injuries.
Brotherhood supporters organised six marches in Alexandria to demand the purge of the judiciary.
Police forces broke up a pro-Brotherhood protest earlier on Friday in Siouf area, a witness said.
On the other hand, hundreds of supporters of army chief General Abdel Fattah al-Sisi staged a demonstration at al-Qaed Ibrahim Mosque to urge him to run for president.