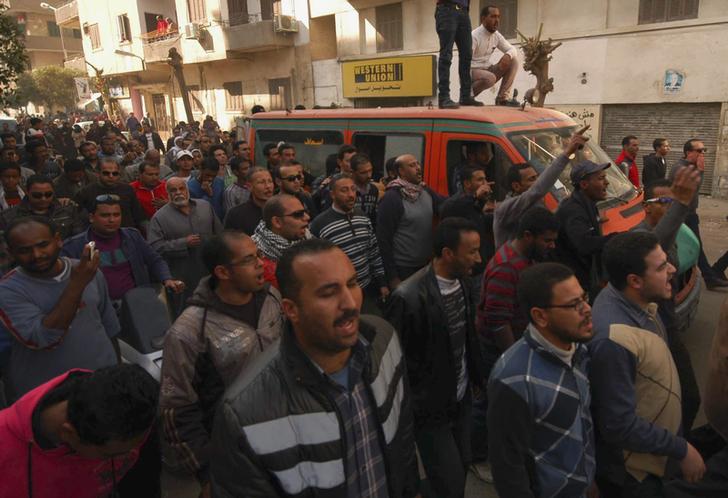 People shout slogans as they surround the ambulance carrying a body of a protester killed during clashes yesterday in the port city in Suez, about 134 km (83 miles) east of in Cairo January 26, 2013. REUTERS/Stringer
Around 3, 000 protesters in Suez organised on Monday night a protest to march from al-Arba'een Square to al-Geish Street to demand ending the 30-day curfew President Mohamed Mursi has imposed on three Suez Canal cities.
Mursi on Sunday declared a state of emergency on Port Said, Suez, and Ismailia for 30-days while army forces deployed their troops in these cities.
Prime Minister Hisham Kandil's cabinet earlier today approved a draft law that gives the military the authority to arrest citizens.
Protesters waved the flags of Egypt and Suez and chanted slogans that call for toppling Mursi and the Muslim Brotherhood, an Aswat Masriya eyewitness said.
The protesters said they will not stop demonstrating until "the regime is overthrown", the eyewitness added.
"The army will not impose a curfew; the people of Suez will impose a curfew on themselves if they are in danger to allow the army forces to arrest the outlaws," Major General Osama Askar, leader of the third field army, stated.