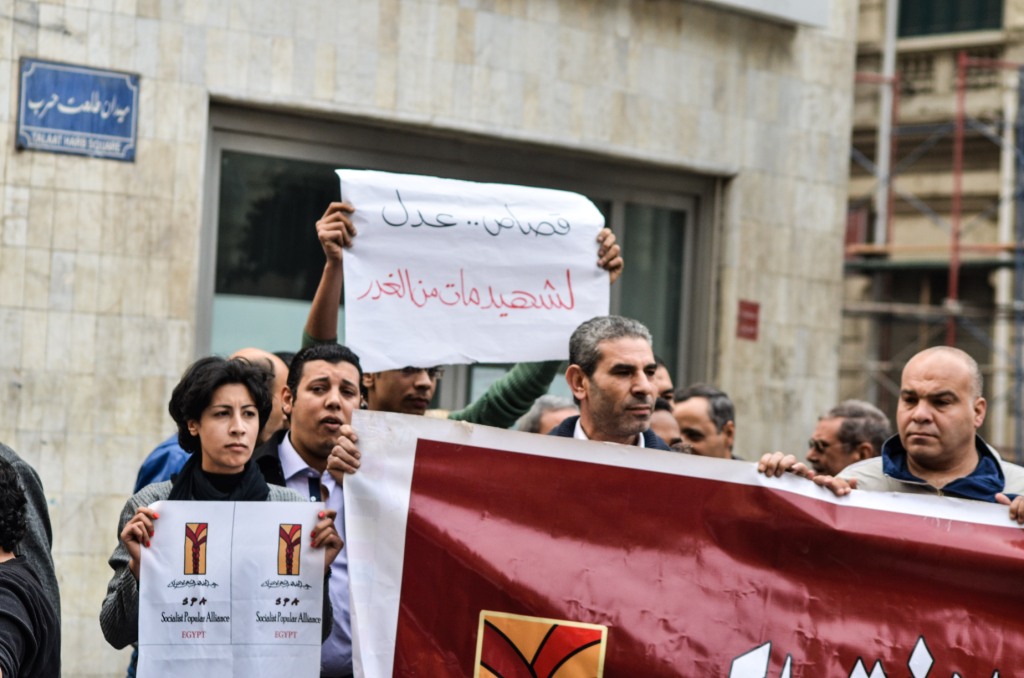 Shaimaa al-Sabbagh (L), member of the Socialist Popular Alliance Party, takes part in a protest in downtown Cairo shortly before her reported death, on Saturday, January 24, 2015. ASWAT MASRIYA/Mohamed al-Rayi
CAIRO, Jan 26 (Aswat Masriya) - The Democratic Trend Alliance will reconsider participating in the upcoming parliamentary elections in protest over a female activist's death on Saturday.
The alliance made the announcment in a press conference on Monday, two days after a member of one of the parties in the alliance was killed during a protest.
Shaimaa al-Sabbagh, member of the Socialist Popular Alliance Party (SPAP), was killed in a protest held in central Cairo on January 24, one day ahead of the fourth anniversary of the January 2011 uprising.
SPAP said she was killed after sustaining birdshot and has accused the Interior Ministry of her killing.
The alliance also called for the dismissal of Interior Minister Mohamed Ibrahim and the restructuring of the ministry. It demanded a "swift" and "transparent" investigation into Sabbagh's death, whose results are to be announced to the public.
The acting president of the party, Medhat al-Zahid, told Aswat Masriya that the current environment is not conducive to holding elections, especially amid the "security clampdown on political forces."
Interior Minister Mohamed Ibrahim said that if it is proven that a policeman is responsible for activist Shaimaa al-Sabbagh's death, "I will hand him in myself," in a press conference earlier.
Ibrahim offered condolences on behalf of the police and said the police complied with all investigators' requests.
On Sunday, Spokeswoman of the Bread and Freedom Party Mona Ezzat said parties belonging to the Alliance are considering boycotting the parliamentary elections because "we have no trust in the current Interior Ministry, which makes us lose trust in the integrity of the elections."
The Alliance includes al-Dostour Party, the Social Popular Alliance Party, the Popular Current, and the Egyptian Social Democratic Party.
Egypt's upcoming parliamentary elections are scheduled for March and April.