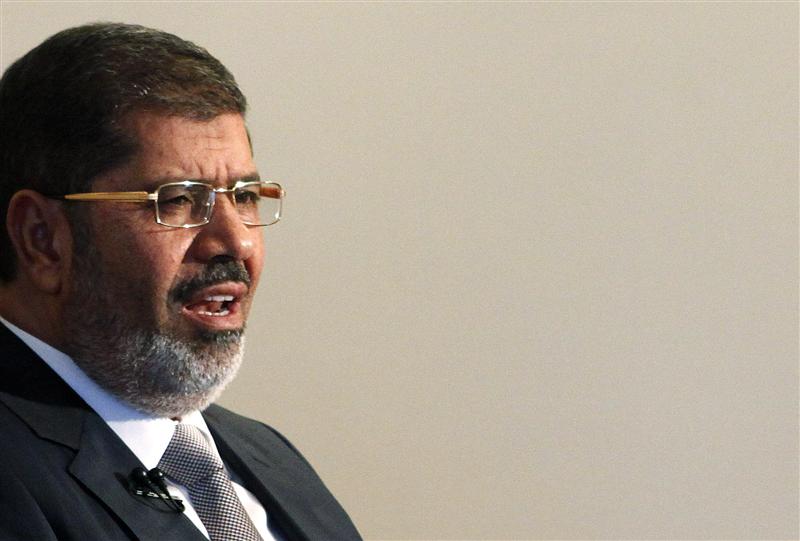 Egyptian President Mohamed Mursi - Reuters
Egypt's President Mohamed Mursi said on Saturday that the economy witnessed a growth of 2.6 percent in the third quarter of the economic year 2012 in his first speech to the Shura Council (upper house of the parliament).
Mursi temporarily held legislative power following the dissolution of the People's Assembly. After the adoption of the new constitution, the upper house will act as legislature until a new assembly is elected.
The Shura Council convened on Wednesday following the appointment of 90 new members.
The president said in a televised speech that investments reached 50 billion L.E. which indicates 11 percent growth of the investment rate, resulting into the reduction of fifth of the total deficit.
He added that the inflation rate was down to the lowest since the uprising. As for rumors about bank failures, Mursi said that the net reserves reached 5, 150, 000 L.E.

The liquidity index rose to hundred million and a thousand L.E, bank deposits reached 300 billion and a thousand L.E, whereas Suez Canal achieved the highest record of the economic year this quarter.
Mursi stressed that his priority is to develop the economy; he said that he will establish a council for economic development to answer the demands of Egyptians and eradicate poverty.
"The government exerted all its effort to develop services and governmental sectors," Mursi said.
He gave an example for these developments saying, "We're developing a project in Suez Canal, taking into account that 20 percent of the world's trade and containers pass through it annually. However, its proceeds do not exceed three percent of the proceeds of trade passers-by. The development of the Suez Canal will multiply Egypt's income 20 times to its current income and provide jobs for many Egyptians."
According to the president, the number of tourists rose up by millions, and if there were no non-peaceful political scuffles, tourism would have achieved more.
"In the industrial field, we have succeeded in giving 190 operating licenses for new plants, and the introduction of facilities in eight industrial zones," Mursi said.
The President also talked about the situation in Syria, saying that "there is no place for the current regime in the future of Syria."