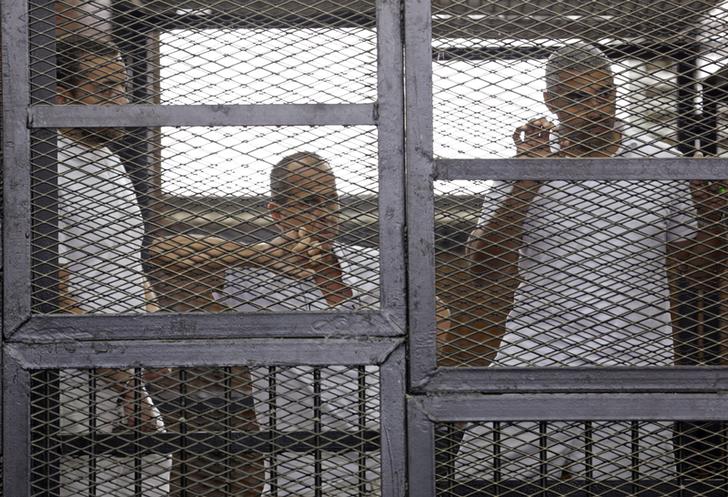 Al Jazeera journalists (L-R) Baher Mohamed, Peter Greste and Mohammed Fahmy stand behind bars in a court in Cairo June 1, 2014.REUTERS/Asmaa Waguih
By Matt Siegel
SYDNEY, June 24 (Reuters) - The parents of Australian journalist Peter Greste, one of three Al Jazeera journalists jailed for seven years each by an Egyptian judge, have called the verdict an attack on free speech everywhere that has left them "shattered".
The three journalists all denied the charge of working with the now banned Muslim Brotherhood. They have been held at Egypt's notorious Tora Prison for six months, with the case becoming a rallying point for rights groups and news organisations around the world.
"This man, our son, Peter, is an award winning journalist. He is not a criminal. He is not a criminal," his father, Juris Greste, told a news conference in Brisbane on Tuesday.
"To us, it is not just affecting the Greste family. We put it to you that it is also a slap in the face and a kick in the groin to Australia as well as all fair minded people around the world," he added.
Greste was sentenced along with Egyptian producer Baher Mohamed and Canadian-Egyptian national Mohamed Fahmy, Cairo bureau chief of Al Jazeera English.
Cairo defended the journalists' convictions - for aiding a "terrorist organisation" - and rejected the widespread condemnation as "interference in its internal affairs".
The Greste family said that they had not yet decided what their next step would be in attempting to free their son and his colleagues.
Australian Prime Minister Tony Abbott struck a cautious tone on Tuesday, somewhat softening his government's furious initial reaction on Monday, perhaps in the hopes of securing their release through diplomatic or other extra-judicial channels.
"I do understand that once the court system has done its work, there are options for presidential acts - presidential clemency, presidential pardons and so on - and that's why I'm not in the business of being critical of the government as such," Abbott told reporters in Canberra.
"What we don't want to do is engage in unhelpful megaphone diplomacy because that won't do Peter Greste any good, it won't do his two Al Jazeera colleagues any good."
Earlier, U.S. Secretary of State John Kerry called Egypt's foreign minister to register his "serious displeasure" at the "chilling, draconian sentences".
The three men were detained in late December and charged with helping "a terrorist group" - a reference to the Muslim brotherhood - by broadcasting lies that harmed national security and supplying money, equipment and information to a group of Egyptians.
The Brotherhood was banned and declared a terrorist group after the army deposed elected Islamist president Mohamed Mursi in July following mass protests against his rule. The Brotherhood says it is a peaceful organisation.
(Reporting by Matt Siegel; Editing by Jeremy Laurence)