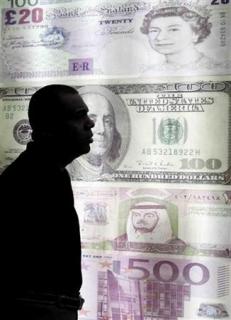 A man walks past a currency exchange office in Cairo - Reuters/Mohamed AbdelGhany
By Archana Narayanan
DUBAI, May 26 (Reuters) - Egypt has chosen banks to handle its return to the international bond market after a gap of five years, underlining a return of economic and political stability in the country after its Arab Spring uprising of 2011.
Investor meetings to discuss a U.S. dollar sovereign bond issue will be held in the United Arab Emirates, London and the United States between Thursday and June 3, a document from lead arranging banks showed on Tuesday.
The document did not specify the size or maturity of the bond, but the finance ministry had previously said it intended to issue $1.5 billion of Eurobonds.
BNP Paribas, Citigroup, JP Morgan, Morgan Stanley and Natixis will arrange the investor meeetings for Egypt, which is rated B3/B-/B by the main international credit rating agencies.
Economic growth has begun to pick up and shaky state finances to strengthen since President Abdel Fattah al-Sisi took office last year, overseeing the installation of a technocratic cabinet that is starting to reform the economy, and forging an alliance with rich Gulf states to obtain aid and investment.
The bond issue is expected to draw heavy demand from investors wanting a slice of Egypt's recovery.
The market price of Egypt's outstanding dollar bond maturing in 2020 reflects this; it is trading at a yield of 4.21 percent, near a life low of 3.98 percent hit in December and down from a peak of 11.09 percent in June 2013, when political instability froze Egypt out of the global market.
(Reporting by Archana Narayanan; Editing by Andrew Torchia)