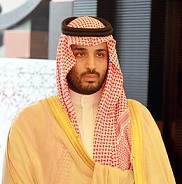 Saudi Defence Minister and Deputy Crown Prince Mohamed bin Salman Al Saud. Handout from Saudi defence ministry
By Hend Kortam
CAIRO, Dec. 15 (Aswat Masriya) - Saudi Arabia launched on Monday an "Islamic alliance" which includes Egypt among 34 countries to fight terrorism, which presents a "serious violation of human dignity and rights," a statement for the alliance said.
Dubbed the "Islamic military alliance to fight terrorism," the new coalition will be based in Riyadh, the capital of the oil-rich monarchy and says it will fight any terrorist group that comes before it.
The alliance, which was launched at turbulent times for the region, includes Turkey and some of Saudi's Gulf neigbours, like the United Arab Emirates and Bahrain, according to a joint statement by the alliance published on Egypt's state news agency MENA.
But the members are likely to increase, since at least 10 other countries announced their support for the alliance, including Indonesia. Saudi Defence Minister and Deputy Crown Prince Mohamed bin Salman Al Saud told a press conference that those countries are not "outside the alliance", according to the Saudi news agency SPA.
He said that they need to take some measures before they join.
"Today every Islamic country fights terrorism individually," he said, adding that coordination through an operation room in Riyadh will improve methods and efforts to fight terrorism across the Islamic World.
Listing the areas that suffer from terrorism, the Saudi prince named Syria, Iraq, Sinai, Yemen, Libya, Mali, Nigeria, Pakistan and Afghanistan and said coordination would "no doubt" be made through the alliance.
In March, Arab world leaders agreed in principle to establish a unified military force and top Arab officials have since met repeatedly to discuss the details of the military force.
Saudi Arabia is already part of the U.S.-led coalition to fight the Islamic State fighters in Iraq and Syria, known as ISIS and has been leading another military coalition in Yemen, where it wants to prevent the Houthis from climbing to power.
Similarly, the fight against terrorism has been high on Egypt's agenda this year and the Egyptian state has actively addressed the matter during international events and high-level talks.
The Egyptian military has launched multiple campaigns in the past two years in the Sinai desert to fight militant activity which surged starting mid-2013.
In February, Egypt's air force launched air strikes in Libya, which it says hit militant targets, after the beheading of 20 Coptic Egyptians inside Libya at the hands of militants believed to belong to the Libyan division of ISIS.
Egypt is also part of the Saudi-led coalition which launched military operations against the Houthis in Yemen on March 26, after the Shia rebel movement made advances onto the Yemeni south.