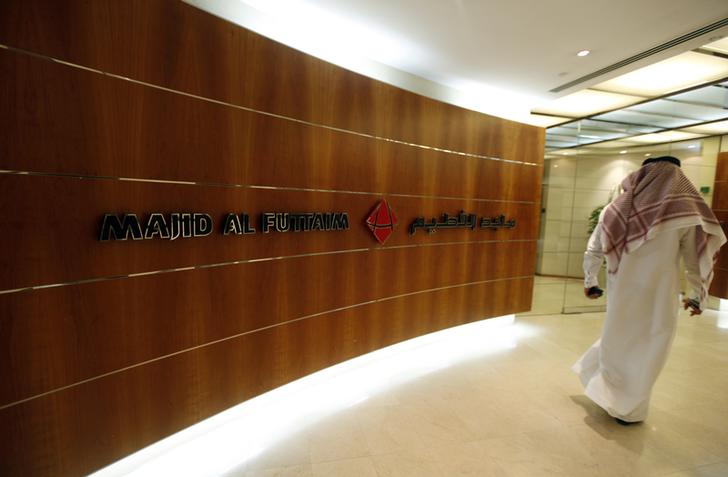 A man walks past a sign at the Majid Al Futtaim headquarters in Dubai during the Reuters Consumer and Retail Summit September 11, 2012. REUTERS/Jumana ElHeloueh
CAIRO, Nov 19 (Reuters) - Egypt said on Wednesday it had resolved a long-standing dispute over a land sale with Dubai-based conglomerate Al Futtaim Group, as the government seeks to clear a backlog of such disputes in order to win back badly-needed foreign investors.
A cabinet statement said the company would pay a fee to cover a renegotiated land price at theCairo Festival City development, but it did not give details.
A government source had previously said the negotiators were considering a payment of around 235 million Egyptian pounds ($33 million) but Reuters could not confirm the final figure they agreed on.
Officials at Al Futtaim were not immediately available for comment.
Egypt is seeking to attract foreign investment following more than three years of political turmoil. Long-awaited steps towards energy subsidy reform and tax hikes have built some confidence in the government of former army chief Abdel Fattah al-Sisi, but investors still cite legal disputes as one of the major obstacles to their return.
In another sign that Egypt was ready to engage with investors Egyptian firm Orascom Construction Industries , a subsidiary of Dutch-listed OCI, earlier this month won its appeal in a dispute with the tax authority.
That led billionaire Egyptian owner Nassef Sawiris to announce multi-billion dollar investments in the country's power sector.
The Futtaim deal provides for the completion of the real estate project which the statement said would provide "thousands of job opportunities in the sector and related industries...".
"This decision comes in the framework of the government's continuing tireless efforts to resolve investors' problems while guaranteeing the state's rights...", the statement said, adding that the agreement would keep Egypt from international arbitration.
(1 US dollar = 7.1500 Egyptian pound) (Reporting By Stephen Kalin; editing by Keiron Henderson)