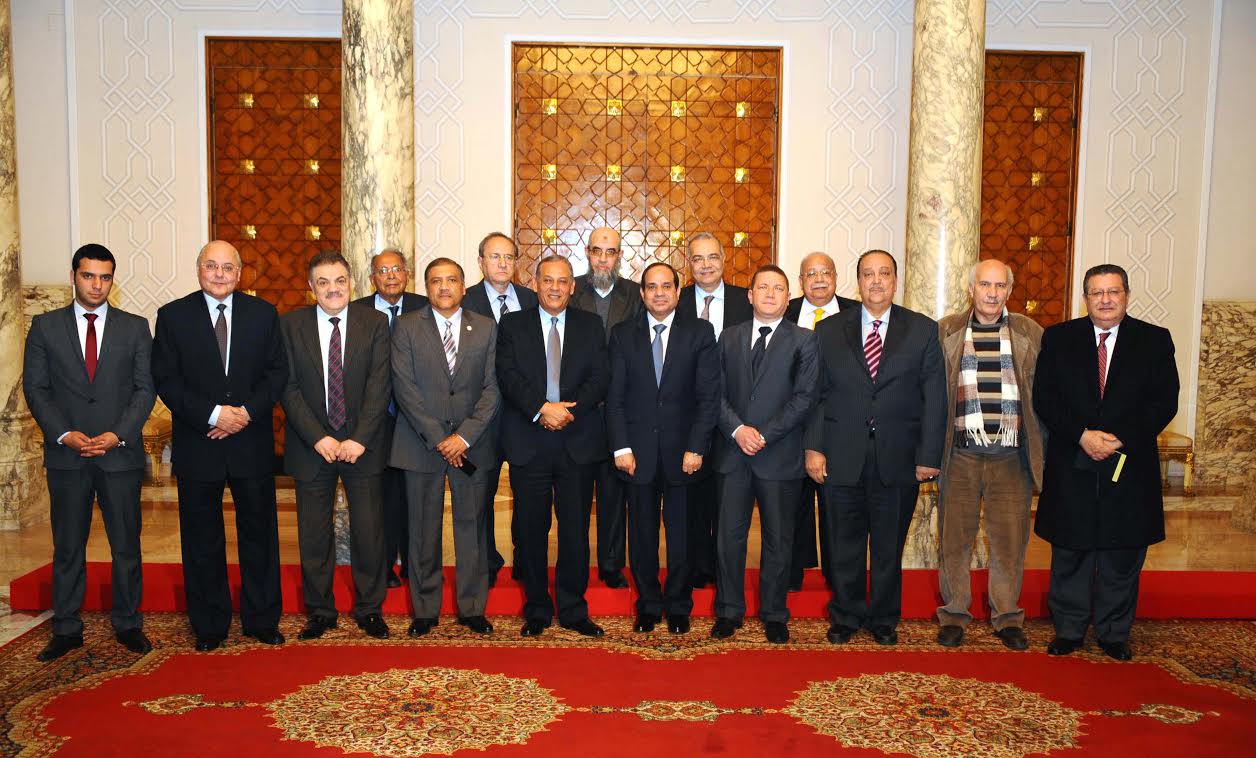 Egyptian President Abdel Fattah al-Sisi (C) met with leaders of political movements, on January 12, 2015. Presidency handout
CAIRO, Jan 13 (Aswat Masriya) – President Abdel Fattah al-Sisi will continue on Tuesday his meetings with heads and representatives of political parties and movements.
The president commenced his meetings with party heads yesterday. He met with the heads of political parties from the entire political spectrum, including al-Wafd Party, the Egyptian Social Democratic Party, the Salafist Nour Party, the Socialist Popular Alliance Party, the Dostour Party, and the Free Egyptians Party.
Sisi told political leaders that the state is committed to holding free and fair elections. He also stressed the state's commitment to represent all political parties in the upcoming parliament.
The president guaranteed that the upcoming parliament would enjoy "expanded decision-making powers", said Presidential Spokesman Alaa Youssef in a statement.The president added that the parliament would require "capable cadres to take responsibility and face the challenges that are confronting Egypt … in this difficult period of time."
The political parties shared their concerns about the election law. Former Interim President Adli Mansour issued the law in June, 2014 to govern the coming parliamentary elections, shortly before ceding power.
The law has been met with criticism by several political parties that have called for its amendment before the elections are held. Political parties were pushing for more seats to be won through electoral lists rather than being individually elected.
As per the newly issued laws, Egypt's coming parliament will be made up of 567 seats; 420 members will be individually elected, 120 will join the parliament through electoral lists, and 27 members will be appointed by the president.
The parliamentary elections are considered the last step in the political roadmap that was announced by the military after the ouster of Islamist President Mohamed Mursi in July 2013 following mass protests against his rule.
Egypt has been operating without a lower house of parliament since the Supreme Constitutional Court deemed its People's Assembly unconstitutional in June 2012.