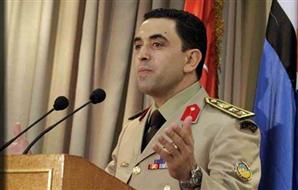 Colonel Staff Ahmed Ali, spokesman of the Armed Forces - Ahram
The Egyptian army's security operations in Sinai, which are conducted in coordination with the interior ministry, will not end until all the terrorist hideouts in the peninsula are cleared, the army's spokesman said in a press conference on Sunday.

The army has arrested 309 Islamist militants since July and destroyed more than 154 tunnels in the Sinai Peninsula, according to Army Spokesman Colonel Ahmed Ali.

The spokesman added that the authorities also confisticated explosive devices and arms that are usually used "in war, not in crimes."

Ali further added that the army also found a large number of hand grenades sealed by the Qassam Brigades stamp, the armed wing of the Palestinian Islamist organization Hamas.
Attacks by Islamist militants have risen sharply in Sinai since the ouster of President Mohamed Mursi two month ago following mass protests against his rule.