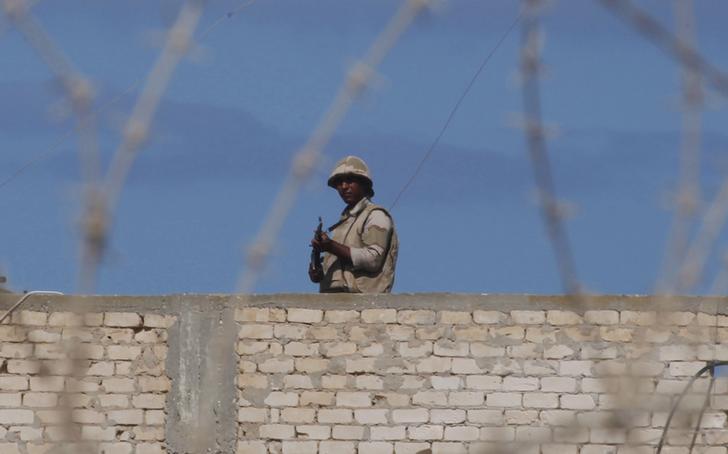 An Egyptian soldier guards the border between Egypt and southern Gaza Strip September 16, 2013. REUTERS/Ibraheem Abu Mustafa
CAIRO, Sep 8 (Aswat Masriya) – The Egyptian army killed 27 "terrorists" and arrested 154 suspects on Tuesday in the towns of Arish and Sheikh Zuweid in Egypt's North Sinai, said the military spokesman.
The Egyptian army launched an operation on Monday called "the martyr's right" in the towns of Arish, Rafah and Sheikh Zuweid. The operation resulted in the death of 29 "terrorists" on the same day.
The military spokesman announced earlier on Tuesday that a roadside bomb went off claiming the life of a police officer and a conscript and injuring four others.
Militant attacks targeting security forces have surged in North Sinai since the ouster of former President Mohamed Mursi in July 2013, which followed mass protests against his rule.

Ansar Bayt al-Maqdis, which has changed its name to Sinai Province since pledging allegiance to the leader of the Islamic State fighters in Iraq and Syria, has claimed responsibility for some of those attacks.