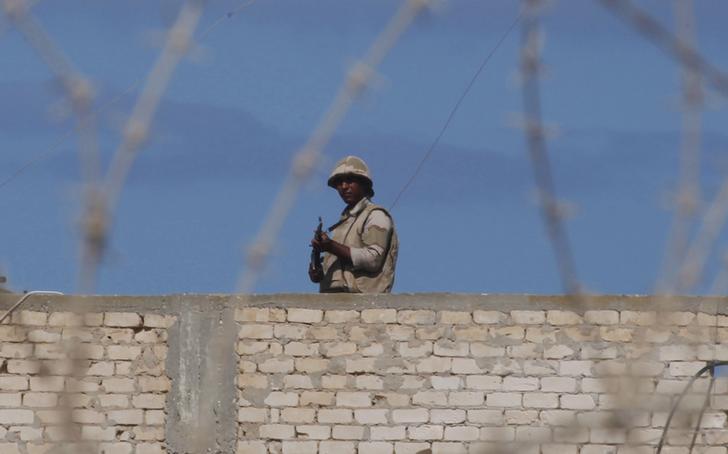 An Egyptian soldier guards the border between Egypt and southern Gaza Strip September 16, 2013. REUTERS/Ibraheem Abu Mustafa
CAIRO, Oct. 22 (Aswat Masriya) - Egyptian security forces carried out raids in Arish, Rafah and Sheikh Zuwaid that left 20 "terrorists" dead, 12 wounded and 78 suspects arrested, the armed forces said in a statement Thursday.
Army helicopters bombed "terrorist hubs" where weapons are stored, according to the statement.

The statement added that military engineers detonated 51 explosive devices.

A curfew has been imposed in parts of Sinai since October 2014, following a deadly attack that killed 33 army personnel.
The Egyptian army undertook the first phase of a security operation in Northern Sinai last September. "The right of the martyr" operation lasted for 16 days and the army announced that it will begin the second phase.
Egypt is battling an insurgency in North Sinai that peaked following the military ouster of former President Mohamed Mursi in July 2013, after protests against his rule.
Aswat Masriya could not independently verify the content of the army statement. Anti-terrorism legislation imposes heavy fines on news organizations that contradict official statements.