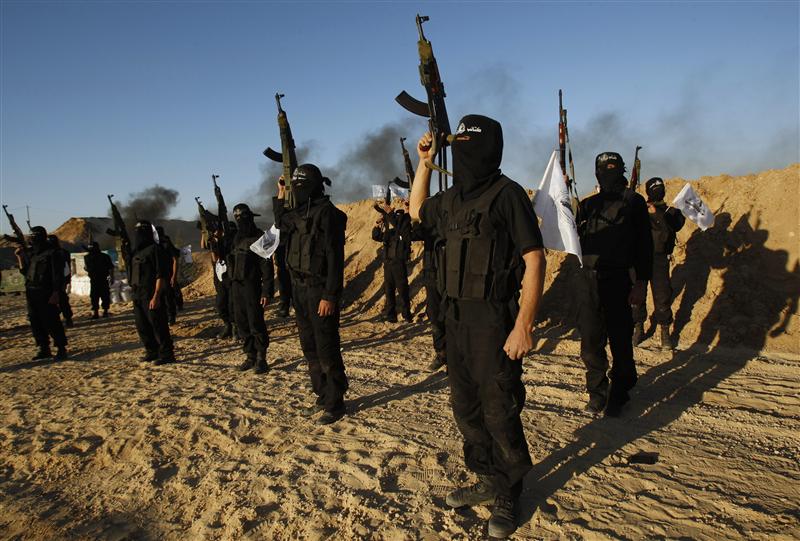 Islamist Militants in Arish - Reuters
CAIRO, Dec 1 (Reuters) - Egypt's deadliest militant group said on Monday it was behind the killing of an American petroleum engineer whose body was found in a car in a desert region almost four months ago.
The group, Sinai Province, named the engineer as William Henderson and included a photograph of his passport and two photo identity cards showing he worked for U.S. energy company Apache Corp. and Qarun Petroleum.
It did not show pictures or footage of Henderson himself or give details about how or why he was killed.
Egyptian officials were not available for comment, but security sources have previously said Henderson died in August in what was believed at the time to be a criminal carjacking in Egypt's vast Western Desert.
Apache Corp. spokeswoman Castlen Kennedy said the U.S. government was still investigating the incident. "Out of respect for the family and the ongoing nature of the investigation, I cannot comment further," she said in a statement.
It was not possible to verify the authenticity of the claim, which appeared on a Twitter feed that has been used in the past to post statements from the militant group.
Sinai Province was previously known as Ansar Bayt al-Maqdis. It changed its named after pledging loyalty this month to Islamic State, the militant group that has taken over swathes of Iraq and Syria and now faces U.S.-led airstrikes.
The group has become a major security problem for the government, killing scores of police and soldiers in the lawless Sinai Peninsula, which is bounded by Israel, Gaza and the Suez Canal, one of the world's most important shipping routes.
Last month, at least 33 security personnel were killed in two successive attacks, prompting Egypt to declare a three-month state of emergency in parts of northern Sinai and raze hundreds of homes to create a security buffer on its border with Gaza.
If genuine, the group's killing of 58-year-old Henderson could mark a shift from its previous focus on targeting Egyptian police and soldiers and their local informers.
Sinai Province separately posted on its Twitter feed on Monday a list of other attacks it said it had carried out in Egypt in recent weeks, most of them roadside bombs or assassinations targeting Egyptian security forces.
(Reporting by Mostafa Hashem and Lin Noueihed in Cairo and Anna Driver in Houston. Editing by Crispian Balmer)