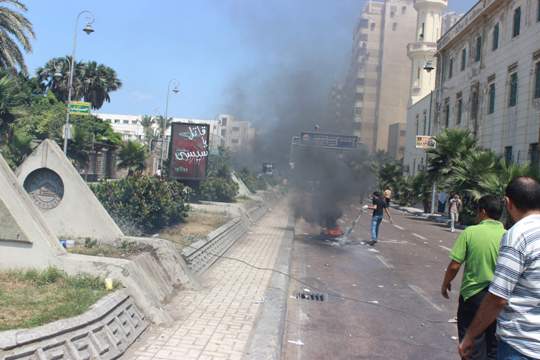 Clashes between supporters of deposed President Mohamed Mursi and security forces in Alexandria on August 14, 2013 - Aswat Masriya
Police forces fired teargas bombs at a march supporting former President Mohamed Mursi in Alexandria on Friday to disperse the protesters, an Aswat Masriya witness reported.
The police intervened to break up the march after scuffles broke out between the demonstrators and residents of an area near Montazah, the witness said.
The police detected three masked and armed men who took part in a pro-Muslim Brotherhood march in Sidi Beshr follow Friday's noon prayer.
Hundreds of the Brotherhood's allies organized various marches in Winget, Borg al-Arab, and al-Bitash areas east of Alexandria.
In Bitash, scuffles erupted between hundreds of demonstrators and residents of Agami who refused to let the protesters pass through their areas.
On the other hand, scores of army supporters rallied at al-Qaed Ibrahim Mosque while carrying pictures for army chief and Defense Minister Abdel Fattah al-Sisi, MENA reported.
A group of demonstrators called on army chief and Defense Minister to nominate himself for presidency in the coming elections.