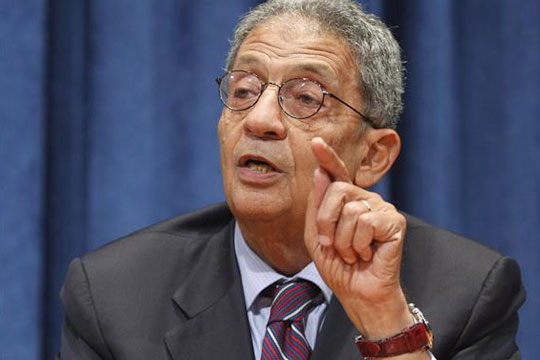 Potential presidential candidate Amr Moussa - photo from REUTERS
The party of former presidential contender Amr Moussa has pulled out of Friday's demonstration against Egypt's draft constitution, claiming its members were attacked by other protesters.
In a Friday afternoon statement, the Conference Party said it had left Cairo's Tahrir Square after its members were assaulted by the April 6 Democratic Movement, a revolutionary group also participating in the demonstration.
"Unfortunately, what happened today is similar to what the Muslim Brotherhood did last week during the protests," the party said. Secularist groups allege that Brotherhood supporters staged an unprovoked attack on them during last Friday's protests on Tahrir.
The Conference Party was formed in September from a coalition of 25 political movements coming together under the leadership of former Arab League secretary-general Amr Moussa. Moussa came fifth in Egypt's first post-Mubarak presidential election.
Hundreds of Egyptian secularists marched from several points across Cairo to Tahrir this Friday to protest against what they believe is the Brotherhood's unfair control of the body writing the country's new constitution.