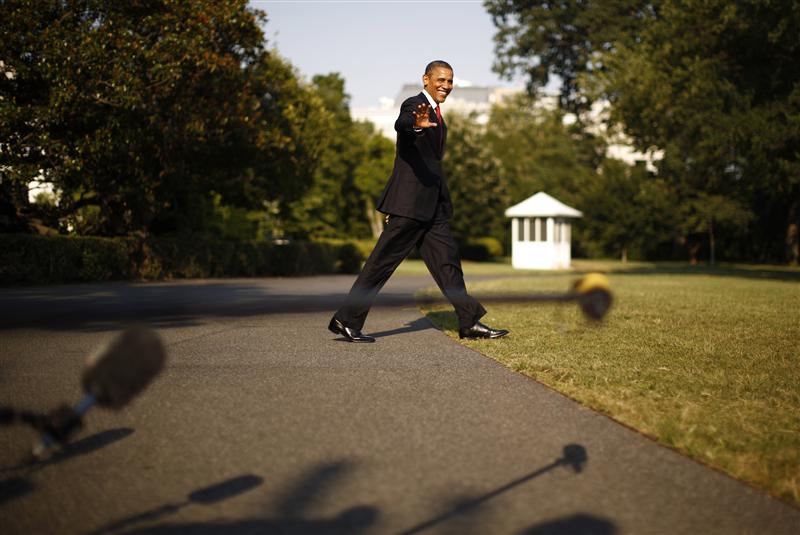 U.S. President Barack Obama walks across the South Lawn as he returns via Marine One helicopter from a weekend visit at Camp David to the White House in Washington, July 7, 2013. REUTERS/Jonathan Ernst
WASHINGTON, July 18 (Reuters) - Leaders of the U.S. House of Representatives panel in charge of aid to Egypt proposed on Thursday that military aid be kept at $1.3 billion next year, subject to conditions including the government planning and holding elections.
However, the bill proposed by the Republican leaders of the House Appropriations subcommittee that oversees foreign aid did not include the annual $250 million in economic assistance that has also been appropriated for Egypt in recent years.
That means the $250 million was not included in planning for fiscal 2014, which starts on Oct. 1, 2013, but the money has also not been specifically prohibited, a congressional aide said.
The subcommittee is to meet on Friday to begin debate on the bill, which could clear the way for its consideration by the full committee as early as next week.
Washington officials have been grappling with the thorny question of how to handle the annual aid it sends to Egypt since the military ousted elected President Mohamed Mursi early this month.
U.S. law bars aid to countries where there has been a military coup. Lawmakers say that determination is up to the Obama administration, not Congress.
(Reporting by Patricia Zengerle; editing by Jackie Frank)