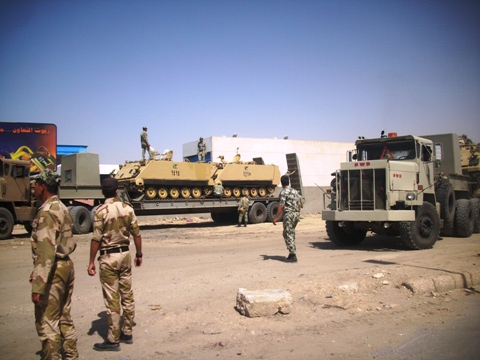 The Egyptian army sent reinforcements to the Sinai Peninsula on Monday - Aswat Masriya
By Shadia Nasralla
CAIRO, Sept 9 (Reuters) - Egypt has tightened control of crossings from the Sinai after an Islamist militant group based in the peninsula said it tried to kill the interior minister in Cairo last week, the state news agency reported on Monday.
Ansar Bayt al-Maqdis claimed responsibility on Sunday for the suicide bombing, and promised more attacks in revenge for a crackdown on Egypt's Islamists, raising fears that militant violence in the Sinai could spread across Egypt.
Islamist militancy has risen sharply in the relatively lawless region adjoining Israel and the Gaza Strip and elsewhere in Egypt since the army deposed Islamist President Mohamed Mursi two months ago, following mass protests.
Thursday's daylight attack was easily the most spectacular so far. A suicide car bomber blew himself up next to Interior Minister Mohamed Ibrahim's convoy as he left his Cairo home for work in an armoured limousine. The bomber, a passer-by and an unidentified person were killed and more than 20 wounded.
Security officials said they were assessing the threat posed by the group, which is said to have 700 to 1,000 members and is considered the second largest jihadist group in Sinai after Salafiya Jihadiya, with its estimated headcount of around 5,000.
Some officials doubt Ansar Bayt al-Maqdis is capable of attacks outside Sinai.
Security officials told Reuters they were especially concerned that Ansar Bayt al-Maqdis, which means "supporters of Jerusalem", will carry out car bombings with stolen government vehicles.
ROCKETS AND HOMEMADE BOMBS
The state news agency MENA said that Ibrahim had decided to issue orders to boost security surveillance and tighten control of crossings from the Sinai to other Egyptian regions to coincide with a broad security campaign in the peninsula.
Ansar Bayt al-Maqdis counts Grad rockets among its weapons and produces homemade bombs used against Egyptian security forces and soldiers, security sources said. Rocket-propelled grenades are often fired at buildings housing security forces.
Last year the same group claimed responsibility for rocket attacks launched on Israel from Sinai.
It has also claimed at least 10 attacks in the past two years on a gas pipeline linking Egypt, Israel and Jordan.
On Saturday the Egyptian army launched an offensive against Islamist militants near Sheikh Zuweid in North Sinai. The troops deployed dozens of tanks as well as armoured vehicles and attack helicopters, killing at least nine militants and arresting nine suspects, security officials said.
Sinai's eastern border with Israel and Gaza is a particularly sensitive one, and Israel made its concerns known when jihadist groups expanded into a security vacuum left by the fall of Egypt's veteran autocrat Hosni Mubarak in 2011.
Since the army toppled Mursi, and especially since security forces killed hundreds of Islamists when they smashed protest camps in Cairo on Aug. 14, there have been online calls from radicals to abandon attempts to achieve Islamist rule by democracy, and instead step up violence.
Security concerns are not limited to the Sinai.
A week ago, militants fired rocket-propelled grenades at a ship passing through the Suez Canal on the Sinai's western edge, vital to world trade as well as Egypt's depleted state finances. A video was released linking them to the al-Furqan group.
(Editing by Michael Georgy and Ralph Boulton)